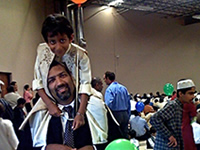 It feels strange holding a cup of coffee in my hand today, just like it felt strange eating pizza for lunch over the weekend. Everything looks normal, but deep down I know it is not. I have just spent a month refraining from food and drink and trying constantly to keep God in my mind, and I am still in that mindset.
But how long will this last before I fade back into my old routines, where the responsibilities of daily life overwhelm that call from the Divine in the background?

As I've shared with you this month, Ramadan has many facets that help to enrich the lives of Muslims — spiritual, social, charitable, and physical. The great struggle post-Ramadan is figuring out how to extend those benefits through until the next Ramadan. There's no one, universal way to do it. Each person needs to come to their own conclusion as to what works best for them. That is my task for the weeks ahead.
I hope that readers now get a sense of what Ramadan means for Muslims, and I encourage those of other faiths to borrow liberally from our traditions in ways that you feel might strengthen your own faith. I especially recommend looking back into your own fasting traditions — nearly every religion has one — and explore ways you can enrich your life with that. The framework of fasting is, I believe, an effective counterbalance to a modern society that is too often based on self-indulgence.

I want to take this opportunity to thank you for allowing me to share my Ramadan with you, and I also want to thank Beliefnet — especially Dilshad Ali, Michael Kress, and Deborah Caldwell — for providing a venue in which to do so.
I'll continue writing about the intersection of Islam and America, both here on the pages of Beliefnet as well as on altmuslim.com, so if you want to continue the dialogue we've started here, please feel free to join me.