UPDATE: They cancelled the conference.
And now from the "what the heck were they thinking" department, the South African government has denied the Dalai Lama a visa to attend a peace conference to showcase – get this – South Africa's human rights record in anticipation of the 2010 world cup. Because they didn't want to piss off the Chinese, South African officials decided to deny entry to one of the major figures of peace in the world – the Dalai Lama. Good luck with that South Africa.
JOHANNESBURG, South Africa (CNN) — South Africa has refused the Dalai Lama a visa to attend an international peace conference in Johannesburg this week, a presidential spokesman said.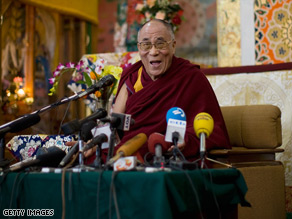 The Tibetan spiritual leader and Nobel Laureate did not receive a visa because it was not in South Africa's interest for him to attend, said Thabo Masebe.
South Africa thinks that, if the Dalai Lama attended the conference, the focus would shift away from the 2010 World Cup — the global soccer championship it will host next year.
"We cannot allow focus to shift to China and Tibet," Masebe said, adding that South Africa has gained much from its trading relationship with China.
The Dalai Lama's fellow laureate, Archbishop Desmond Tutu, said he would boycott the event.
Former president F.W. De Klerk, another laureate, backed Tutu, saying in a statement that he would also not participate in the conference if the Dalai Lama remained excluded.
De Klerk said that the decision to refuse the visa made a "mockery" of the peace conference.