This week, after coming under fire for censorship, the Chinese government lifted blocks on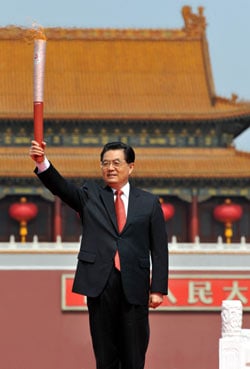 some websites banned to foreign journalists in Beijing covering the Olympics. As reported in Xinhua, President Hu Jintao participated in a rare joint interview with the foreign press on Friday, offering the following statement: "It is inevitable that people hold divergent views on issues, but politicizing the Olympics will not address those issues," Hu said. "Instead, those issues can be resolved on the basis of mutual respect, by narrowing the differences and expanding common ground."
Although by making this statement, President Hu is politicizing the Olympics, what is more interesting to note is that he believes politicized issues can be resolved on the basis of mutual respect, narrowing differences and expanding the common ground. We look forward to the time when he will apply this statement to China's policy toward Tibet and the Dalai Lama.
The Dalai Lama is a universally celebrated world leader, yet his closest neighbors, the mainland Chinese people and their current leaders, have never met him. No senior leader of China has met with him since Mao Zedong, Zhou Enlai and Deng Xiaoping spent time with the 19 year-old Lama in 1954. Why is it that the early founders of the Communist Party felt it was important to meet him? What did they recognize about Tibet that China refuses to acknowledge today? Currently, China condemns him, misunderstands him, and obviously fears him. They daily announce their determination to make an enemy out of a man who sincerely and articulately wishes to be their friend and benefactor.
If China's leaders think a good friend is an archenemy, how do they really regard other world leaders who are actually much less friendly to them, struggling with them in competition for wealth and prestige?

It should be a top foreign policy priority for all world leaders to make every effort to introduce China's leaders to the Dalai Lama — especially since President Hu has openly made this statement — so they can overcome their fears and work together with the Dalai Lama to accept his gifts and solve the problems of Tibet and China. Then there could be real joy in Beijing and Lhasa. And the whole world will breathe a huge sigh of relief.
Robert Thurman
Jey Tsong Khapa Professor of Buddhist Studies, Columbia University
President, Tibet House US
Author of Why the Dalai Lama Matters