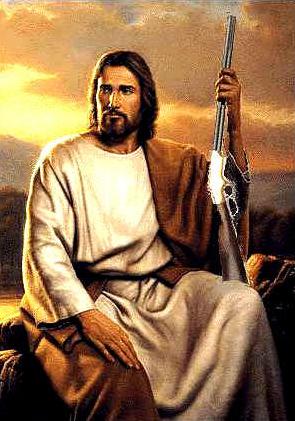 Yet another church shooting, this time at a Unitarian congregation in Knoxville, and yet another chance to ask: Where is the religious community's voice on gun control? The numbers are staggering: 30,000 Americans die each year from gun violence, but gun control has not emerged as a significant agenda item for faith-based organizations, even though the massacres seem to get worse–look at the Valentine's Day shooting at Northern Illinois University and the April 2007 shootings at Virginia Tech that left 33 people dead in the worst case of gun violence in U.S. history.
Moreover, religious organizations, specifically churches, seem increasingly vulnerable. This WorldNetDaily piece lists the number of church shootings in the last couple of years, most notably the December 2007 shootings at a missionary training center near Denver and a well-known megachurch, New Life Church in Colorado Springs, which left four people dead. (The gunman was stopped by an armed guard.)
The problem, of course, is that many view the Second Amendment with reverence that surpasses even the First Amendment, or their reverence for Holy Writ, and polls show that while the public is still supportive of some gun control laws, Americans are increasingly against further restrictions. (Check out this ReligionLink edition for other facts about the issue, and links to pro-gun Christian groups–among them my favorite, as a Catholic, the St. Gabriel Possenti Society, a group that promotes self-defense through gun ownership and is named after a Catholic seminarian in Italy whose "marksmanship and proficiency with handguns single-handedly saved" a village from a band of nationalist soldiers in 1860.)
Most faith groups have statements endorsing some form of gun control, but insiders will tell you that liberal religious groups don't see the issue as a winner, while conservatives don't want it to distract attention from their pro-life campaigns. One of the best initiatives out there is the God Not Guns Coalition, a project of the Brady Center to Prevent Gun Violence. The coalition held its first nationwide "God Not Guns Sabbath" in September 2007.
Some will accuse advocates of gun control of "playing politics" with tragedies like the one in Knoxville, much as was done after Virginia Tech. As if such episodes should cause us to keep quiet rather than speak out. Trying to draw conclusions from actors and their targets is perilous; the Knoxville shooter was apparently a down and out fellow who was angry at liberals–odd, as liberal policies may have been his best chance–but in all these cases we are dealing with psychologically unstable people. Access to guns is the problem. (I wonder how many will highlight the Knoxville case as an example of anti-religious bias in the U.S., as was done with the Colorado shootings.)
Barack Obama is of course "gun shy" after his comments about "bitter" working class types and guns and religion–and his moderated reaction to the landmark US Supreme Court gun ruling last June (The District of Columbia v. Heller) shows he is, probably wisely, not about to make gun control a campaign issue.
But that doesn't mean religious organizations shouldn't be more vocal, or give him cover (so to speak). Instead, religious leaders–generally with the exception of inner-city congregations–would rather ignore the issue. Others, like the leadership of New Life Church in Colorado, say the shootings show why churches should have armed guards and congregants should pack heat. Not what Jesus would do, I think.