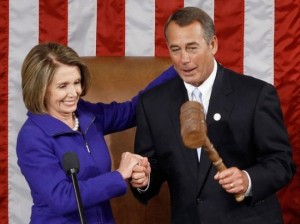 It's odd what convergences of thought an occur when you see a well-done, live theater production of "A Christmas Carol," followed by seeing the politicians on CNN, yet again, blaming each other for not doing the most basic work they were elected to do.
I experienced both this week, the first at a delightful community theater-in-the-round; the second when I turned on the news upon arriving home.
The Republicans want a balanced budget and reforms of entitlements, like Social Security, Medicaid, Medicare, etc. . . . but won't restore income tax rates for the richest Americans to the levels they formerly paid. And, in failing to compromise, the Democrats countered, the GOP went to the brink this week of allowing the rest of increasingly poor Americans to end up with a tax hike come the New Year.
Even is reluctantly caving in, though, a two-month reprieve from a tax hike is all we got. Our "lawmakers" get to take the holidays off before returning in 2012 to, I fear, engage in yet another year of political Russian roulette.
The Democrats, themselves unwilling to budge on meaningful reforms to the aforementioned entitlements or, in general, to make real spending cuts across the board, are just as bad. They insist on tax hikes for the rich and more public spending, making their talk of "reform" meaningless in the real world.
If you ask me, they're both bankrupt – politically, ethically, morally and any other "lly" you can think of.
And Charles Dickens would skewer these career politicos, were he alive today.
I can see him writing these lines for Jacob Marley's chain-laden ghost, 21st century style:
"Politics and business! Mankind was my political priority, human beings were my business. The common welfare was my platform; charity, mercy, forbearance, and benevolence, were, all, my motivation. The dealings of my party were but a drop of water in the comprehensive ocean of my responsibilities to a nation!"
Or, the betrayed and unloved rank and file of Americans, lamenting to the heartless deal makers of Washington and Wall Street:
"It matters little. To you, very little. Another idol has displaced me. . . a golden one. . . . All your other hopes have merged into the hope of being beyond the chance of its sordid reproach. I have seen your nobler aspirations fall off one by one, until the master-passion, Gain, engrosses you. Have I not?"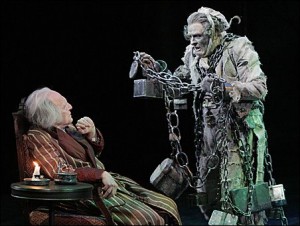 Or perhaps, the Ghost of our own Christmas Present could chastise the power brokers who dare to let their political brinkmanship imperil the already strained resources of working families – and threaten to leave the still-unemployed, by their millions, teetering on homelessness.
"Republicans. Democrats. If you be human beings in heart . . . will you decide what men shall live, what men shall die? It may be, that in the sight of Heaven, you are more worthless and less fit to live than millions . . . . Oh God! to hear the Insect on the leaf pronouncing on the too much life among his hungry brothers in the dust!"
The third spirit of Dickens' classic awaits, senators and congressmen.
Be aware that your fate doesn't find your political careers in an unmourned grave dug for you at the ballot box.
Your integrity, like the bed curtains of an unrepentant Ebenezer Scrooge, have already been stripped and the undertaker of public opinion is measuring you.
Congress? Bah. Humbug.