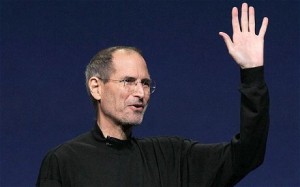 It's all about Steve today.
Steve Jobs, co-founder of Apple computers, who died, too young, on Tuesday. But the praise for the man, certainly deserved as an innovator and consummate marketer in the digital age, has entered the realm of hyperbole.
Good grief. Rest in peace, Steve. But at this rate, Jobs may become the first Zen Buddhist canonized by the Vatican. . . at least if His Holiness can be convinced that the iPad 2 counts as a second miracle (the original Macintosh unit's debut being the first, of course).
*Note: That was a quip for those who missed it (and some have). Jobs=tech miracles=sainthood . . . but not Catholic; saints in the Catholic Church are usually Catholics? Nevermind.
Consider these reactions thus far:
"Steve was among the greatest of American innovators — brave enough to think differently, bold enough to believe he could change the world, and talented enough to do it." — President Obama
"The digital age has lost its leading light, but Steve's innovation and creativity will inspire dreamers and thinkers for generation." — Sony President and Chief Executive Howard Stringer.
"For those of us lucky enough to get to work with Steve, it's been an insanely great honor. I will miss Steve immensely." — Microsoft co-founder Bill Gates
"America lost a genius who will be remembered with Edison and Einstein, and whose ideas will shape the world for generations to come." — New York City Mayor Michael Bloomberg.
OK. Those are all deserved eulogies. And I like Macs, use them in my day job all the time.
But then, there's this:
"He should receive the Nobel Prize. I have a second child who is disabled and even he can use the Macintosh. It shows you how user-friendly Apple products are." — Sachio Kitagawa, a Tokyo Apple customer.
And of course, Twitter is going crazy with folks trying to out-do each other in their adoration. Here's just one example:
"Our parents had JFK, we had Steve Jobs. Edison gave us electricity, Jobs gave us the Jetsons in real life. We lost an icon today. Mourn him."
OK. STOP.
What about Steve Jobs, the man? How about his struggle against pancreatic cancer? Most of us cannot identify with his admitted genius, but all of us know about loved ones battling a terminal disease.
For about that Steve Jobs the human being, here's a good place to start.
R.I.P., Steve Jobs. You will be missed — and for far more than your gadgets.