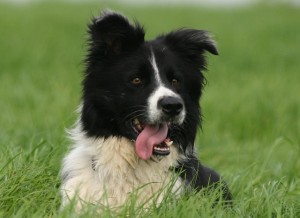 I've always been a fan of serendipity, convinced that if you have your eyes, ears and heart open, God speaks through the unexpected delights that life offers . . . if we just take the step into the beckoning light of the unknown.
My wife, Barbara, and I did just that after church on Sunday. About an hour's drive into the Wasatch Mountain Range east of our home, the national Sheepdog Championships were under way. The drive was amazing, the hotter temperatures of the Salt Lake Valley gave way to the cooler, crisp air of the mountains as we climbed out of the desert and into the pines.
Summer is quickly fading here, the nights all-too-soon growing chilly, the daylight taking on that typical soft, golden glow of the Mountain West. Soon, the leaves on the trees will begin to turn from green to autumn's amber in one last burst of life before winter's sleep. It seems as if these days of late summer are to be relished, tasted and remembered with extra care and passion.
So, we arrived. The atmosphere was a mix of sheep, dogs, people and stands selling woolen capes, Navajo rugs and horsehair pottery, lamb on the spit, fry bread, ice cream and souvenir caps and shirts. A petting zoo was a big attraction for the kids. But the main event, of course, were the partnerships of border collies and their humans.
Half a mile up the pastoral slopes of Soldier Hollow, five sheep were released. Down in the valley, these amazing canines would wait for the command to race uphill, where they would circle in behind the ewes.
Without a bark, a growl or even a nip – just by short bursts of speed and complete focus on the task – one border collie after another would instantly respond to a series of sharp whistles, herding the sheep downhill, then separating them, bringing them back together, and finally, patiently yet resolutely shepherding them into a small corral.
Years ago, I read Lessons From a Sheep Dog: A True Story of Transforming Love, by Phillip Keller. I loved that book, my imagination embellishing the writer's narrative.
On this Sunday, it all came back. Now, I was seeing what he wrote about with my own eyes. The lessons Keller wrote about were refreshed, and now have more of an anchor in my mind.
Keller's book recalls how he rescued an abused border collie, Lass, and took her home to his sheep ranch. What followed was a story of compassion, earning trust, giving and receiving love, and finding happiness with purpose. . . for both man and dog.
Keller himself learned seven lessons from Lass, lessons he applied to how to successful live a life of faith:
– In the Wrong Hands. (Like Bob Dylan sang, "You have to serve somebody." Freedom is not individual anarchy, but finding what makes your heart sing in harmony with your purpose, and your Maker).
– Set Free — to Follow. (There comes a time when you choose to serve, and that is true freedom).

– Learning to Trust. (What faith really amounts to is trusting God to keep His promise to always be with you through troubles, even when He does not deliver you from them).

– The Delight of Obedience. (Spiritual surrender is not imprisonment of the soul, it is freedom to be what we were created to be, the giver and recipient of boundless love).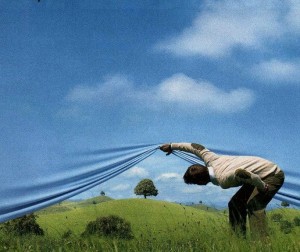 – The Test of Faithfulness. (Distractions from living our purpose bring confusion, wasted energy, wasted opportunities for happiness).

– Love and Discipline. (With true love, which yearns for growth and wisdom, comes discipline. Lessons once learned need not be repeated).
– Available for Anything. (In a walk of faith, we will be asked to step into the unknown, to take a deep gulp and move ahead).
Ah, serendipity.