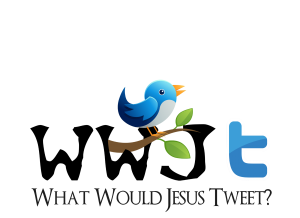 A while back I wrote about how various deities and/or prophets and sages did on Facebook. Jesus beat all comers in terms of Facebook "friends."
So, I shouldn't have been surprised to find the Savior is also a Twitter sensation. I'm assuming here, of course, that these "tweeters"  are impersonating the Son of God. Call me a skeptic, but just don't see Jesus worrying too much about how to say something in 140 characters or less.
That said, I found quite a few Twitter accounts for the Nazarene. Some are funny while being respectful; others are not (respectful, that is). All, however, are occasionally insightful, and at the very least revealing about how Christ is viewed in the realm of this popular pop culture tool.
Some of tweets by @jesus Carpenter, Healer, God offend even my broad tolerance for religious humor, but a lot of them make me smile — and think:
"On my way to Hawaii. Anyone want to walk with me?"
"HEY BLIND MAN! Made you look."
"It's not over 'til "I" say it's over."
"Sorry, you're at the wrong gate, Osama."
And my favorite . . . "What would I do?"
——————–
Meanwhile, over at @WWGT (What Would God Tweet), Holy Ghostwriter, Retelling Bible stories in 140 characters each:
"Unlike Colorado balloon boy's airship, the Ascension sailed straight up. Jesus was not hiding in a box. (Acts 1.1-11)"
"Ascension Sunday: Jesus has left the building. (Luke 24:46-53)"
"Undercover Jesus reveals ID at Emmaus Cafe. RT @Disciples: OMG!"
"Previously on WWGT: Jesus Christ's Food Revolution, Judas turns out to be a mole, Peter has some explaining to do."
————————————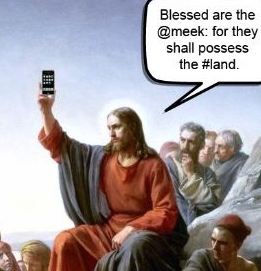 On a more serious, innovative note, New York City's Trinity Church recently tweeted an Easter Passion play. Some excerpts:
 "twspassionplay via @Pontius-Pilate: What harm has this man done? Why does the crowd cheer on his murder? I wash my hands of this. They can do what they want."
"twspassionplay via @-JesusChrist: Father forgive them, they know not what they do."
"twspassionplay via @ServingGirl: This crowd is rough. Talk of his blood on our hands…but if he is really the Messiah God will rescue him."
You get the idea.
I can just imagine how some of the more spiritually constipated parishioners in my Dad's old churches would have reacted to some of these. Palpitations, I tell you, and some serious, plain old "Why, I'm faintin' dead away, pastor! Sacrilege!"
I, as you might have guessed, see things a bit differently.
Social media is the new soapbox in the public park. And I figure if people are discussing Jesus Christ, they are also thinking about him.
And, thinking about him, they just might consider who he was and is, and what he had to say.
That's not a bad thing.