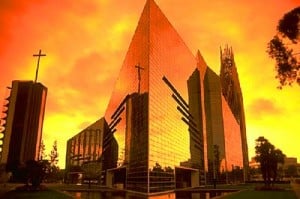 It looks like the Crystal Cathedral, that long-lived architectural landmark of Southern California – and the iconic sanctuary of Dr. Robert H. Schuller's feel-good, "positive gospel" – is about to shatter, at least metaphorically.
Oh, the opulent, nearly-6,000 capacity, 128-foot-high structure — crafted from more than 10,000 tempered glass panes anchored to steel trusses — will remain standing. But the ministry, at least the one Schuller built into a media empire from humble beginnings in a drive-in theater lot, may be circling the corporate and spiritual drain.
The past decade has not been kind to Schuller and Company in the headlines. In 2004, Crystal Cathedral's gifted but bipolar orchestra director, Johnnie Carl, shot himself to death in a church restroom despite the pleas of Schuller and police negotiators; a second suicide occurred in 2009 when a homeless man walked into the church, handed a note to a greeter, knelt in front of a large golden cross and shot himself in the head.
In its heydey, Schuller and his Hour of Power TV program of professionally produced music and dramas — punctuated by the silver-haired preacher's own mix of pop psychology and what some would call Christianity Lite — packed the Crystal Cathedral's seats.
The Hour of Power also drew millions of viewers. My Dad, the preacher, was among Schuller's regular TV attendees.
He found Schuller's positive messages, devoid as they were of the hell fire and brimstone so often associated with the early Holiness/Pentecostal movement, refreshing – even if he didn't buy everything the robed Schuller had to say. Whatever the efficacy of Schuller's gospel, though, no one could argue he put one one heck of a show.
Those were the times when, as the multiple TV cameras panned over the congregants, you could spot celebrities by the pulpit-full. "There's Charlton Heston, the actor! Hey, that's Glen Campbell, isn't it? I like his singing," my parents would remark.

Kirk Douglas, once seen hanging on a cross in the movie Spartacus, was known to hang around the Crystal Cathedral, too. Wynonna and Naomi Judd made appearance, too. Once, I saw a boyhood hero of my own, motorcycle dare devil Evel Knievel, making a Crystal Cathedral cameo, as it were.
That was then, and this is now – and now is not very kind to the increasingly empty glass palace that Schuller built. Once packed with thousands of worshipers, now the Crystal Cathedral reportedly settles for mere hundreds. The Hour of Power has been trimmed back to half an hour on some networks still hosting it; the elder Schuller, now 84, gave way first to his son, Robert, and then split with him over "vision" issues even as the church's board purportedly forced the ministerial heir apparent out. Schuller's daughter, Sheila Schuller Coleman, now holds the reins.
But for how long? Last October, the Crystal Cathedral entered Chapter 11 bankruptcy. Increasingly impatient creditors now are demanding the board sell the structure to cover debts north of $50 million, or face lawsuits. Among bidders: Orange, Calif.-based Chapman University and the Roman Catholic Church.
I have always found it impossible to picture Yeshua bar Joseph, a.k.a. Jesus Christ, feeling at home behind the pulpit of the Crystal Cathedral (if, indeed, he could make it to the stage past the security staff). Still, part of me laments the dénouement of Schuller's dream. After all, he had some good things to say over the years (see below):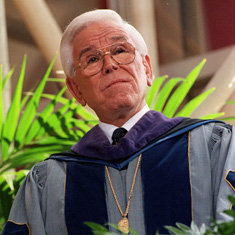 "What would you attempt to do if you knew you could not fail?"
"Tough times never last. Tough people do."
"Better to do something imperfectly than to do nothing flawlessly."
And my favorite:
"Anyone can count the seeds in an apple, but only God can count the apples in a seed."
Whatever becomes of Crystal Cathedral and The Hour of Power, Robert H. Schuller has that legacy, at least.
Indeed, such quotations may well outlast his citadel of steel and glass.