Therefore, since we are surrounded by so great a cloud of witnesses, let us also lay aside every weight, and sin which clings so closely, and let us run with endurance the race that is set before us, looking to Jesus, the founder and perfecter of our faith (Hebrews 12:1,2a).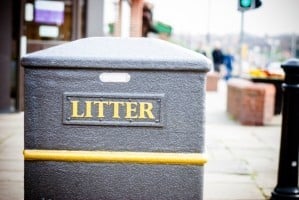 We've been discussing Scriptures pertaining to pruning and purging unnecessary things in our lives in this new year.
We have looked at Jesus' approach of clearing out, cleaning up, and gathering up only things that bear good fruit in our lives; that is, only things that promote the character qualities of Jesus Himself. This pertains to activities, relationships, and stuff of any kind.
Paul also chimes in with his thoughts on disposing everything that doesn't enhance our relationship with Jesus. This involves taking a good look at everything in our lives and asking ourselves the important question:  do I need this, Lord? Does this item/relationships/activity promote my growing into the character of Jesus?
The writer of Hebrews also has something to say about weeding out and letting go of–literally, trashing–unproductive things in our lives. His (or her) criteria is to throw away anything that holds us back from running our race effectively. If something in your life–again, it can be an item, activity, commitment (notice I didn't say covenant), or relationship–that is a distraction from the call of God.
The enemy isn't dumb. In fact, he's as clever as they come. His main goal is to distract us in small or large ways from doing the top tier activities that get us closer to Jesus. He uses people, social media, illnesses, chaos, you-name-it, he'll use it to get us off our course. Our job is to evaluate our lives and what we do with our time, asking God to help us prune things back and throw things away that are sent to distract us from why we're here. 
Dallas Willard said it so very well:  "Organize your life around spiritual transformation." Change doesn't happen magically. And while we are not saved by works, becoming like Jesus takes some effort. Change, like anything worthwhile, involves exercising some muscles and getting down to business.
Let's pray to that end!
My Father,
You created me for a reason. Above all else, I want to realize Your purpose in my life.
I ask for forgiveness for allowing distractions to hinder me from the things You've called and ordained me to do.
Give me wisdom to prune and purge everything out of my soul, heart, mind, body, home, office, and life that holds me back from running my race strong to the end.
I wait on You now for clarity and direction…. Speak, Holy Spirit, my ears are wide open to hear Your still, small voice of instruction and clarity.
In Jesus' Name
Amen
P.S. Did God speak clarity to you as you waited on Him? He did to me! Please leave us a comment below, and we will agree in prayer with you!
Photo on Foter.com