Daily Video
This Christian artist expresses his love for the Lord effortlessly and with deep devotion. Phil Wickham enjoys a devout fan following and it's well deserved. "Rejoice in this divine romance" is as good as prayer as it is a song lyric. Prayables picks "Divine Romance" as today's best religious music selection. Rejoice and enjoy!
Divine Romance Lyrics – Phil Wickham
The fullness of Your grace is here with me
The richness of Your beauty's all I see
The brightness of Your glory has arrived
In Your presence God, I'm completely satisfied
For You I sing I dance
Rejoice in this divine romance
Lift my heart and my hands
To show my love, to show my love
A deep deep flood, an Ocean flows from You
Of deep deep love, yeah it's filling up the room
Your innocent blood, has washed my guilty life
In Your presence God I'm completely satisfied.
Composer: Unverified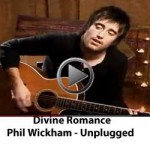 READ MORE and enjoy these features from the Daily Prayable!