Religious Music
Mercy Me knows how to speak to us, and touch us, when we are sad or doubting. "Beautiful" is a song about God's love. The last line in the chorus, says it all: "You are treasured, you are sacred, you are His. You're beautiful" This version is a recording of a live performance. It captures the magic the band and lead singer bring to an audience of believers. The crowd shots alone are awe-inspiring. The Prayables pick is, "Beautiful" by Mercy Me as a winner for today's best religious music.
I heard this song today on the radio, (93.3) and it went striaght to my heart. It was exactly what I needed to hear, at that very moment.
angieness77
At camp a girl I didn't even know came up to me and told me she felt like God told her to tell me how beautiful I am and how much God loves me and how I should never forget that..little did she know at the time,I have been struggling with self harm for almost a year now..
cooljen94
Hope is offered … we are made in HIS likeness… thank you Mercy Me… your music is awesome and I always feel so close to Father when I play your music.
2CAVision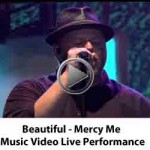 READ MORE and Enjoy these features from the Daily Prayable!