The plight of Christian inmates in North Korea's huge network of concentration camps has been denounced by the human rights group Amnesty International, which unveiled new satellite photos that show the camps have grown dramatically in size.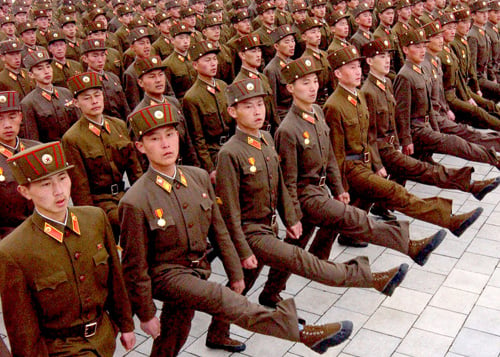 Testifying about the terror of growing up in one of the camps was Kim Hae-sook, who was 13 years old when she was sent with her entire family to Bongchang-ri Camp No. 18. There she was held for 30 years.
Her crime? Her grandfather had escaped to freedom in South Korea.
She described growing up watching public executions and struggling to scavenge food to keep her family members alive. She also told how being denounced by another prisoner as a Christian was an automatic death sentence.
"I have seen public executions hundreds of times," she recalled. Now in her 50s, she escaped North Korea after her release from prison in 2002. "A lot of people were executed by firing squad. If someone believes, then that person would be hanged."
She spent her early teens scavenging for grass for her family to eat since the prison often didn't always feed its captives. At age 16, she was put to work in a notoriously dangerous mine, working 16-18 hours a day. Three of her family either starved to death or were killed in mine accidents. Food is scarce in the camps. Amnesty International said it regularly hears descriptions of prisoners eating rats or picking corn kernels out of animal waste in order to survive.
To read about the courage of North Korean Christians, CLICK HERE
Emotionally, Kim was scarred and today is haunted by her family's suffering. She continues to have nightmares of torture and executions that prisoners were forced to watch. Some prisoners were taken to areas known as "Total Control Zones" from which it was known they would never be released.
She said many of her fellow prisoners didn't know why they were being held.
"These are places out of sight of the rest of the world, where almost the entire range of human rights protections that international law has tried to set up for last 60 years are ignored," said  Sam Zarifi, Amnesty International's Asia Pacific director. He released satellite images of the camps showing four of the six camps. A comparison with satellite pictures from 2001 shows a significant growth in the size of the camps, which have been operating since the 1950s.
CLICK HERE: Pope Benedict XVI worries that persecution of Christians worldwide is growing
Former prisoner Kim Tae-jin, the president of Democracy Network against North Korean Gulag, said there is no way to know how many North Koreans are prisoners of their own government. "North Korea is never going to come up and say 'we do have this number of political prisoners.' Everything is based on guessing. Once you step into the camp, your soul is deprived. You no longer think that you are alive even though you are alive."
'North Korea can no longer deny the undeniable," said Zarifi. "For decades the authorities have refused to admit to the existence of mass political prison camps.
'As North Korea seems to be moving towards a new leader in Kim Jong-un and a period of political instability, the big worry is that the prison camps appear to be growing in size," he said, referring to the son and presumed successor of dictator Kim Jong-il.
CLICK HERE for details of North Korea's cruel medical experiments on Christians
Jeong Kyoungil, who was detained in Yodok from 2000 to 2003, said prisoners worked from 4am to 8pm with two breaks for meals of corn gruel.
"From 9 pm to 11pm, it's time for ideology education. If we don't memorise the 10 codes of ethics we would not be allowed to sleep," he said. "'Disruptive' inmates are put for at least a week in a cube 'torture cell', where it is impossible to either stand or lie down.' Another former detainee at Yodok an estimated that 40 per cent of inmates died from malnutrition between 1999 and 2001.

For Kim Hae-sook, her connection with Bongchang-ri Camp No. 18 remains as strong as ever. Her siblings are still being held in detention over 40 years after they were first taken there from their home in the back of an army truck.