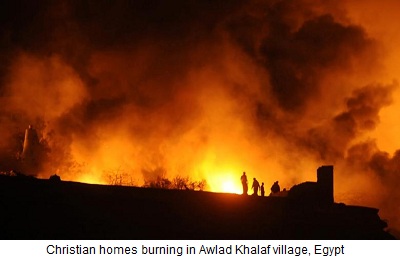 A mob of nearly 200 Muslims torched eight Christian homes on Saturday morning in the Egyptian village of Awlad Khalaf, according to the Assyrian International News Agency.
The attack was initiated by a rumor that a house being built by a Christian man, Wahib Halim Attia, would be turned into a church. Two Christians and one Muslim were injured, no fatalities were reported.
Attia had obtained a license to build a house in the village on a 95 square meter plot. The house grew to an area of 350 square yards but was still on agricultural land that he owns. This gave rise to the rumor that he intended to build a church instead.
Father Weesa Azmy, the priest at St. George Church in the neighboring village of Negou Madam East, said that someone went to the City Council in Dar es Salam and told them about the irregularities in the house construction.
Wahib was ordered to remove the excess by June 24.
"Instead Wahib carried on with the construction, which angered the Muslims, who decided to play God and take the law into their own hands; they attacked the construction site and other Christian homes."
According to Azmy, Muslims broke into the home of Ihab Tamer, who defended himself with a rifle. A Muslim who was there to help Ihab was injured by a bullet in his leg from Tamer's rifle.