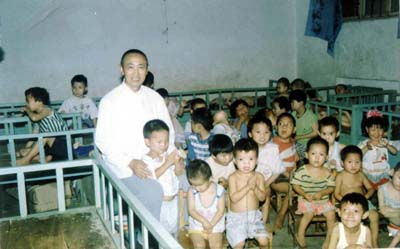 Chinese underground Catholics have decided to challenge their government's ban on the World Day of Prayer for the Church in China.
The Communist government has forbidden the underground Catholic community in Shanghai from visiting the shrine of Our Lady of Sheshan on 24 May — a day the Pope has called for Catholics worldwide to pray for the persecuted church in China.
To read more about China's persecution of Catholics CLICK HERE
Chinese Catholics are required by law to be a part of the government-run Catholic Patriotic Church — and to have no affiliation with the Vatican or any Catholics outside of China. While several million Catholics, generally elderly, do attend the government-run churches, many more are "underground," led by priests and bishops loyal to Rome, not Beijing. Those leaders are routinely arrested and jailed.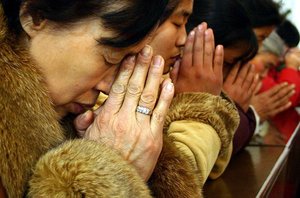 Nevertheless Catholic underground churches are growing.  
To watch a video smuggled out of China about the underground church, CLICK HERE
And after decades of quietly resisting government control through passive disobedience to the Chinese government, several of the underground communities have decided to challenge the ban and will go on pilgrimage to the shrine in Sheshan over the previous weekend, May 21.
"The atmosphere is very tense," an underground priest told AsiaNews, "and we should remain calm. At the same time we want to obey the instructions of the pope."
 To read about the Chinese government's escalating persecution of Protestants at Beijing's Shouwang Church CLICK HERE
 In 2007, Benedict XVI established May 24, the Feast of Our Lady of Help, as the World Day of Prayer for the Church in China.
In a papal letter to Chinese Catholics in 2007, he expressed the intention that through prayer they might strengthen the unity between China's underground and official Catholics. 
The letter also asked the Lord to give China's Catholics "for the strength to persevere" in their "Christian witness, even in the midst of suffering of persecution."
CLICK HERE to read about China's oppression of its Nobel Peace Prize winner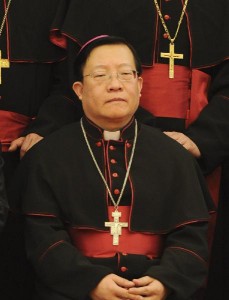 Since 2008, Chinese authorities have tried to prevent pilgrims from going on any pilgrimage to the Sheshan shrine. This year, the government "invited" priests to go on "government paid holidays" on the Day of Prayer.
Each year, police have allowed only a few pilgrims to hike up the slopes to the shrine — turning back thousands, threatening them with arrest. Some have been held for 48 of questioning.