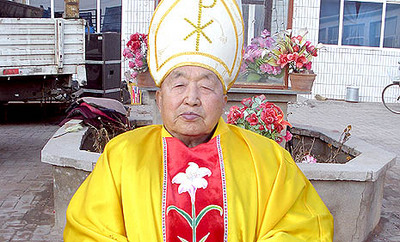 On Ash Wednesday, 95-year-old Bishop Andrew Hao Jinli of Xiwanzi, who shepherded believers in the illegal, underground Catholic church in northeastern China, died of natural causes.
 Security forces were mobilized to block the faithful from paying last respects or attending his funeral.
  China allows adult Catholics to worship in state-sanctioned Patriotic Catholic Churches, but not in the Roman Catholic Church. Patriotic Catholic Church clergy must denounce any allegiance to the Vatican.
 Bishop Hao had defied that ban. Born in 1916 and ordained in 1943, he was a parish priest when Mao took over China in 1949. Refusing to renounce his belief in Christ, he was sentenced to 10 years of hard labor in 1958, but was not released until 1981. He was secretly ordained as a bishop in 1984.
 "Communist anxiety over a dead country priest exposes official paranoia about any movement or association state authorities cannot control," wrote Washington Times editorial writer Brett Decker. "Beijing can have soldiers patrol the streets, put spies in pews, have junior Marxists taking notes in the classroom, micromanage newspapers, pick and choose corporate executives and try to censor the Internet, but it's impossible to control all the people all the time."
 To see a video of Chinese Christians telling of persecution, CLICK HERE.
CLICK HERE to read about China's 2011 Lenten crackdown against Christians.
CLICK HERE to read about a 1,000-member church's persecution by officials.