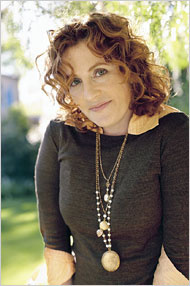 Ayelet Waldman's essay in the New York Times' "Modern Love" column a couple years ago was even more irritating than the usual fare in that space–which of course makes you watch it, the way some people watch Fox News or others listen to NPR. You fume, and wonder how people get away with it.
Waldman's self-revelation, for those who may not be as Times-obsessed as I am, was that she loves her husband more than her kids–and that unlike all the other mommyes she knows, she is having great sex while they are way too focused on their kids. And on and on:
An example: I often engage in the parental pastime known as God Forbid. What if, God forbid, someone were to snatch one of my children? God forbid. I imagine what it would feel like to lose one or even all of them. I imagine myself consumed, destroyed by the pain. And yet, in these imaginings, there is always a future beyond the child's death. Because if I were to lose one of my children, God forbid, even if I lost all my children, God forbid, I would still have him, my husband.

But my imagination simply fails me when I try to picture a future beyond my husband's death. Of course I would have to live. I have four children, a mortgage, work to do. But I can imagine no joy without my husband.
The column made Waldman famous, or infamous, as a kind of "anti-Mom," a traitor to her vocation, and–no surprise–now Waldman has turned her column into a book, "Bad Mother: A Chronicle of Maternal Crimes, Minor Calamities, and Occasional Moments of Grace," which is out for Mother's Day and is being reviewed all over.
Want to puke? You may want to wait until your read this bit from the NYT review:
In an essay called "Rocketship," Waldman takes brave risks that make the title of the book seem less like a feminist wink and more like a tortured cry of self-doubt. She describes the choice she made, over her husband's initial objection, to terminate a pregnancy when a genetic counselor informed them there was a small — but bigger than usual — chance that their son would be seriously developmentally and physically challenged.

Waldman is never more moving than when she describes reading aloud, on Yom Kippur, before her entire congregation, a letter of atonement to the little boy or girl who would have been her third child. "I atoned before my husband, and my baby," Waldman writes. "I begged Rocketship's forgiveness for being so inadequate a mother that I could not accept an imperfect child." She wants no consolation from the abortion-rights crowd ("Rocketship was my baby. And I killed him"), and she's clearly unafraid of what the anti-abortion propaganda machine will do with what she has written.
So what will they do with her? What is the lesson here? Is there one?