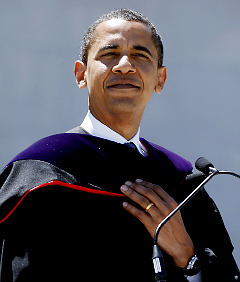 By great good fortune, or the designs of Providence, the text of President Obama's commencement address this coming Sunday at Notre Dame has fallen into my hands. It is a powerful exposition of Obama's approach to the most controverted aspect–for some Catholics–of his appearance at Notre Dame and his presidency: namely, abortion.
Here's the top:
"I am grateful to the university for inviting me here today. In a strange way, I am grateful also to those who protest at my coming to Notre Dame because it has made me more conscious of the need to explain the policies of my administration on this deeply sensitive, powerfully emotional issue of abortion."

"So, dear graduates, permit me to explain, at this university that is the crowning glory of Catholic higher education, what my administration intends to do on this that is of such significance to the Catholic community. For 35 years, Americans have been shouting at each other about Roe v. Wade. Many are shouting still today. We had to pass by their shouts to enter the hall today. How do we find common ground when the issue is so divisive? Is it foolish to even try?"
Okay, so I found the speech in the latest edition of The Tablet of London, and it is actually a journalistic exercise by Michael Sean Winters, who "offers a speech for the President to silence his critics."
But it is a good read. Obama could do worse, and may. But should he focus so single-mindedly on abortion? And I doubt anything he says will silence his critics. The full text is available only to subscribers, but here is a passage that gives a good sense of the whole, and I think is the strongest and most appealing part:
"I believe that common-sense proposals to try to reduce the abortion rate are the only available common ground. I believe that if we stop shouting at each other and listen to the women who are actually facing an unplanned pregnancy, we will find plenty of work to do to help them through a difficult chapter in their lives. I believe that if we as a nation and as a culture rally to the support of women facing crisis pregnancies we will both protect women's constitutional rights and promote what Pope John Paul II called 'The Gospel of Life'."

"I believe that if we seek common ground on this most divisive of issues, it will be easier for us to work together on the other urgent moral tasks facing our nation. We must continue rebuilding our economy so that a day's work earns a just wage and that the dignity of work becomes the ethical foundation of our economy, not the mere glorification of profiteering which has turned Wall Street into a synonym for greed and worse. We must work together to bring peace to Iraq. We must work together to enact humane immigration reform that honours our nation's tradition of welcoming immigrants while securing the border from those who wish us ill. We must work together to protect the environment, to show ourselves to be good stewards of God's creation."
So is such an approach foolish to try? I suspect Obama can never win over his enemies, but I hope he will show greater grace and intelligence than than they, and if he does he will carry the day among the great majority disposed to agree with him.