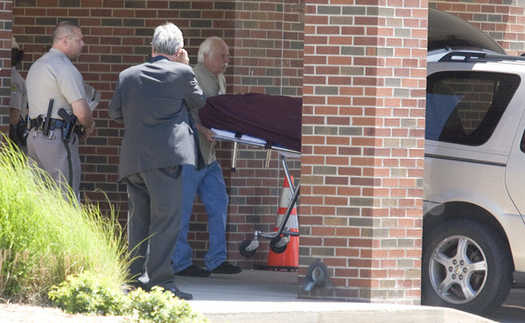 George Tiller, the Kansas abortionist whose willingness to perform late-term abortions made him especially anthema to pro-lifers, was shot and killed as he served as an usher this morning at his church, Redeemer Luthern.
He was reportedly shot by a white male with a handgun, and the AP reports that police have a suspect in custody:
WICHITA, Kan. – A Wichita city official says a suspect is in custody in the shooting death of late-term abortion provider George Tiller.

The city official spoke on condition of anonymity because he was not authorized to speak publicly about the case. The official did not provide additional details.

An attorney for Tiller, Dan Monnat, says the doctor was shot Sunday as he served as an usher during morning services at Reformation Lutheran Church. Monnat said Tiller's wife, Jeanne, was in the choir at the time of the shooting.

THIS IS A BREAKING NEWS UPDATE. Check back soon for further information. AP's earlier story is below.

WICHITA, Kan. (AP) — Late-term abortion doctor George Tiller, a prominent advocate for abortion rights wounded by a protester more than a decade ago, was shot and killed Sunday at a church in Wichita where he was serving as an usher and his wife was in the choir, his attorney said.

Tiller was shot during morning services at Reformation Lutheran Church, attorney Dan Monnat said. Police said a manhunt was under way for the shooter, who fled in a car registered to a Kansas City suburb nearly 200 miles away.

National anti-abortion groups had long focused on Tiller, whose Women's Health Care Services clinic is one of just three in the nation where abortions are performed after the 21st week of pregnancy.
A news conference is scheduled for 4pm local time. The Wichita Eagle also has up-to-the-minute coverage.
Pro-life groups have been quick to denounce the shooting:
"We are shocked at this morning's disturbing news that Mr. Tiller was gunned down," said Troy Newman, president of Operation Rescue. "Operation Rescue has worked for years through peaceful, legal means, and through the proper channels to see him brought to justice. We denounce vigilantism and the cowardly act that took place this morning."
LifeNews.com also rounds up pro-life reax.
Coming just weeks after a new poll showing a majority of Americans identifying with the pro-life label (if not policies) for the first time, this could be ugly.