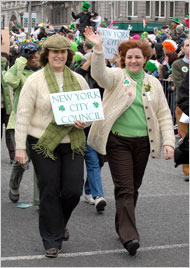 The speaker of the New York City Council, a pretty powerful and savvy lass, is also about as Irish as they come. But she's openly gay, too. Which means she can't march in New York's annual March 17 Eire-extravaganza up Fifth Avenue and past Cardinal Edward Egan standing on the steps of St. Patrick's Cathedral. Yes, divorced, pro-choice, pro gay rights and Italian-American Rudy Giuliani was welcome. But alas, not Christine Quinn.
The New York Times' City Room reports:
Ms. Quinn — the 2008 recipient of the Irish American of the Year award from the Irish Echo, the oldest and largest Irish-American newspaper — said in an interview that she was honored. But she also said that she felt a bit of "sadness" that she also wouldn't be able to celebrate on Fifth Avenue, alongside the estimated 150,000 people who march every year either.

Sure, she asked the parade's organizers, the New York City St. Patrick's Parade and Celebration Committee, to sit down and have a meeting to discuss possible compromises — as she has done for years. And once again, she said that she did not get a response.

"I just don't understand why being stuck is more attractive than even trying," she said. "It just seems hard to accept, with all of the progress in our city, and all of the progress in the world, that we should be at loggerheads over the inclusiveness of the Fifth Avenue parade. It kind of boggles the mind."

A message left with the parade organizers was not immediately returned.
As the story notes, Quinn has been hailed by much of the Irish-American community, and something tells me this isn't a play by the Cathedral crowd, either. Edward Egan never liked to pick fights with public figures, no matter how controversial, and I don't think he'd give a hoot if Quinn marched–even if she was with her partner, as shown in this photo of her, at right, marching in the 2007 St. Patrick's Day parade in Dublin with Kim Catullo.
(When Quinn became council speaker in 2006 parade organizers said she could march–as long as she wore nothing and did nothing to indicate she was gay. She, um, declined.)
Yes, the Irish–that is, the church-going folks who live in Ireland–are a lot less torn up about this sort of thing than the provincials organizing the New York parade. Indeed, to make the story even more rich, this year Quinn will be attending a reception for Irish-Americans at the White House Tuesday night hosted by President Obama, and featuring Prime Minister Brian Cowen of Ireland. Sweet.
The Irish…They say all their wars are merry and their songs are sad. This battle is definitely not a happy one.