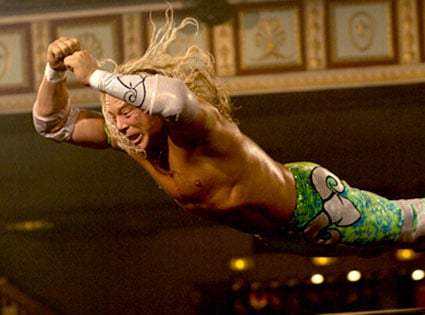 Lord knows the troubled actor needs one, and in one of the least-covered pre-Oscar stories you'll see in the runup to the Sunday night movie awards, Rourke tells Our Sunday Visitor about the New York priest who helped turn him around in 1994.
Rourke is up for a Best Actor for his role as Randy "Ram" Robinson, the over-the-hill wrestler in "The Wrestler," and if he wins it'll be a tale of redemption twice over.
The OSV piece is available to subscribers only (so subscribe–it's a good cause, too!) but in essence it recounts how the bad boy 80's star (and yes, I saw "Diner" when it came out–loved it–and how about that cast?) was at rock bottom and about to sink lower. His wife at the time was hooked on heroin and then was raped, and when Rourke learned who the rapist was, he headed out with a gun kill the man and then himself. As the OSV story tells it:

Yet, instead of going through with it, Rourke felt compelled to enter the Church of the Holy Cross near Times Square. There, racked with sorrow and doubt, he started to cry, and the parish pastor, Father Peter Colapietro, took notice.
"I reached a place in my life where living was living hard. I was at a crossroads. Because I was raised Catholic, I had issues with the dark side of life I was drifting in," Rourke said. "I didn't know this man, Father Peter. I just walked in his church one day, walked in the right door and met the right priest."
Father Colapietro managed to talk Rourke out of his plan. "He took away my gun and had me leave the note with St. Jude, the patron saint of impossible causes. And he said that part of my life could be over now and I still had the opportunity to do things over again."
Over the 14 years since, Rourke and Father Colapietro have cemented their friendship, with Rourke saying his confessions in Colapietro's kitchen. Rourke has Thanksgiving and Christmas dinner at the church rectory.
"He definitely is a man of faith and believes in God's presence in the world," Father Colapietro told OSV. "He often wonders why he's having this success right now, and I say you've got the talent, and talent is a gift from God."

In the piece, Rourke also speaks movingly about his difficult childhood and Catholic upbringing.

"I grew up going to catechism classes, and the early part of my life was in the Catholic Church. My father was very devout. He left us when I was 6, but I looked forward to Sundays as the days I got to see my dad," he said. "I loved going to church with him, and we had our ritual where, after church, we'd get a bag of doughnuts, a quart of milk and sit on a stoop. You know, it's like you see somebody you know and respect, my father on his knees praying, I wanted to be just like him."

Rourke still has his rough edges, but it's a good story. I hope he wins just to hear the acceptance speech from a guy who fell so far so fast he was nearly homeless.
For another side of the story, read this 1996 New York Times profile of Father Pete. And pray for vocations!