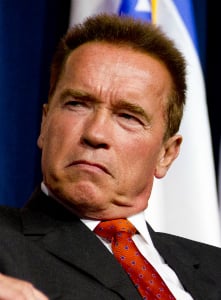 Wow. When NBC turned the tables on Donald Trump and fired HIM from his show, Celebrity Apprentice, many began speculating on who could take his place. Did the name Arnold Schwarzenegger ever come to mind?
This morning, NBC announced that yes indeed Schwarzenegger would be the next boss man for the popular reality/competition/charity TV show. Now, no disrespect to the Terminator, but one has to wonder if he will be as intimidating in person as Trump has been. Back in 2005 when the original Apprentice TV show was a big hit, NBC spun-off a second version with Martha Stewart, but she didn't have the same bit as Trump. (Of course, it didn't help that she was in prison for part of the show as well)
Donald Trump isn't just a tough boss, he has a huge ego, which is part of the reason why the show was fun to watch. Everyone knew that the boardroom was not big enough for two large egos at the same time. It will interesting to watch and see if Schwarzenegger has the same swagger. He is certainly smart enough (he served two terms as the governor of California, has invested in real estate and sports franchises and has made a movie or two) and he has some controversy under his belt (his affair and divorce from wife Maria Shriver), so he has that going for him.
Up until now, Trump's version of the show was able to raise more than $15 million for charity. "After leaving the show to run for political office, Donald made it clear that he wanted The Celebrity Apprentice to be able to continue to raise millions of dollars annually for worthy causes, and now NBC and I have found an amazing new leader to do just that." said executive producer Mark Burnett. And even Trump himself is pleased with the new host tweeting, "Congrats to my friend @Schwarzenegger who is doing next season's Celebrity Apprentice. He'll be great & will raise lots of $ for charity."
However, don't expect to see The Arnold anytime soon. NBC says that new season will not air until the 2016-2017 TV season. Still, NBC's Paul Telegdy is happy: "We are thrilled to be opening a powerful new chapter in the story of the 'Apprentice' franchise. Arnold Schwarzenegger is the epitome of a global brand in entertainment and business, and his accomplishments in the political arena speak for themselves. It was Arnold's personal passion for the format that Mark Burnett and Donald Trump built over the last decade, as well as his fresh take on how to take it to new heights for today's audiences, that made him the man to hire. The Celebrity Apprentice … will be back!"