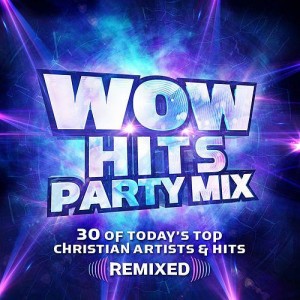 The latest in the Word Records/Capitol Christian Music Group and Provident Label Group collaboration in the "WOW" series is "WOW Hits Party Mix" which features 30 remixed versions of some favorite hits. Each song is by a different artist, so like the other "Wow" records, there is a lot of variety. However, not every singer's music transitions well into dance music. With that being said, there should be plenty for most to enjoy here, if dance music is your thing.
One of the best song on the two CD release is also one of the oldest songs, "Baby Baby" from Amy Grant. It is taken from her "In Motion: The Remixes" album released last year. One reason is that the song already had a catchy beat and lends itself well to the new updating. Most of the other music is taken from the last year or so, so don't be expecting a "greatest hits" type of album.
Other great songs include TobyMac's "Me Without You," Britt Nicole's "Gold" and Tenth Avenue North's "No Man is an Island" for the same reason. But perhaps the best song on collection is Love & the Outcome's "He is With Us" which breaks from it's regular tune and jumps into a happy dance. It's nearly impossible not to listen without a smile on your face.
Some remixed songs that turned out surprisingly well include music that you wouldn't think would translate well. For Chris Tomlin, you would think that the producers would have chosen a more dance-friendly song like "God's Great Dance Floor," but instead they chose the slower, "Waterfall." In my opinion, it sounds better than the original version. Same goes for Matt Maher's "All the People Said Amen." Who knew?
Other honorable mentions include "Write Your Story" by Francesca Battistelli, and "Need Your Now" by Plumb.
On the other end of the spectrum, this project's biggest disappointment is the treatment given to United's "Oceans." Can't imagine that tune as a dance hit? You're right. The remix doesn't do the song any favors. The second big disappointment goes to the treatment given to Mandisa's "Overcomer" which actually slows down the song, almost to a halt (for effect I guess) and basically sucks the life out of it. Of all the singers represented on this set, I would think that Mandisa would be one of the best. Finally, there is the hymn "Because He Lives" by Crowder and features Bill Gaither. For a first run through, it's fine, but it is very lengthy and loses its novelty quickly.
For hard rock fans there's "Hero" by Skillet and "Run and Escape" by Red which don't sound too far off from the original versions and hardly sound like dance music.