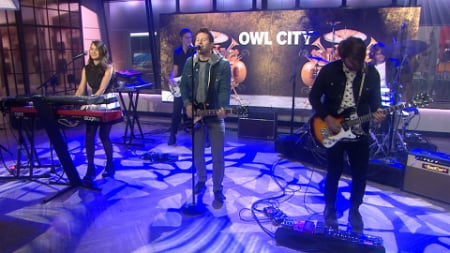 Talk about the modern age. On Owl City's newest album, Mobile Orchestra, Adam Young sings "Unbelievable" with the group Hanson. The album was just released last Friday, but the four of them never sang the song together until their performance on the Today show … today!
This morning, Today host Willie Geist asked Young how that was even possible. Young went on to explain that the two group collaborated on the song with the magic of the internet but Young hadn't met Hanson officially until yesterday when they practiced together for the first time. Fortunately for everyone involved, the performance went off without a hitch. See for yourself:
Like Young's other hits like "Fireflies," "Unbelieveable" doesn't really "fit" in today's music scene as it doesn't talk about relationships or sex, but refreshingly, it does. Both Young and the Hanson brothers are Christians, but they aren't really known for their faith, just their art. For Hanson, the topic has been a bit too personal for them, at least in previous years. For Young, his fifth album will be making a stronger statement than before.
"I definitely wanted to write in a way that pointed more directly to my faith and how important it is to me," Young said in a recent interview with Guideposts.org. "I wanted to write a couple of songs that were really vulnerable and honest. I just imagined if I was feeling really lonely or down in the dumps, what's the kind of song that I could really use?"
Two examples that come to mind immediately are "You're Not Alone" and "My Everything" in which the singer makes it perfectly clear who he looks to for guidance in his life. In addition to the Hanson song, the new record also features a standout collaborations with country star Jake Owen, Britt Nicole, Aloe Blacc and Sarah Russell.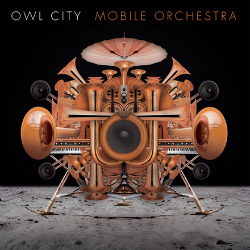 Mobile Orchestra Tracklisting:
1. Verge (feat. Aloe Blacc)
2. I Found Love
3. Thunderstruck (feat. Sarah Russell)
4. My Everything
5. Unbelievable (feat. Hanson)
6. Bird With A Broken Wing
7. Back Home (feat. Jake Owen)
8. Can't Live Without You
9. You're Not Alone (feat. Britt Nicole)
10. This Isn't The End
And of course, with a new album comes a new concert series, right? Owl City will begin his fall tour on October 5 of this year with special guest, Rozzi Crane. Interested in going? Get your tickets here.

Owl City October Tour Dates are:
5 – Nashville, TN at The Cannery
6 – Atlanta, GA at Center Stage
8 – Philadelphia, PA at The Trocadero Theatre
9 – Washington, D.C. At the 9:30 Club
10 – New York, NY at Irving Plaza
12 – Boston, MA at the Paradise Rock Club
13 – Lancaster, PA at the Chameleon Club
15 – Chicago, IL at the House of Blues
16 – Milwaukee, WI at The Rave II
17 – Minneapolis, MN at Varsity Theater
19 – Englewood, CO at Gothic Theatre
20 – Salt Lake City, UT at The Complex
22 – Seattle, WA at the Neptune Theatre
24 – San Francisco, CA at the Regency Ballroom
25 – San Diego, CA at the Observatory North Park
26 – Anaheim, CA at the House of Blues