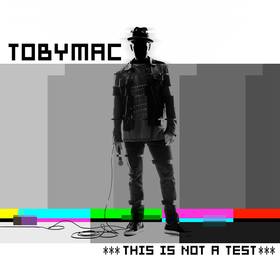 Though six-time GRAMMY® winner TobyMac's new album, This is Not a Test, won't hit store shelves until August 7, two songs from it are available to download today on iTunes. The 13-track studio album is TobyMac's sixth and is available for pre-order as well as two advance songs, "Beyond Me" and "Backseat Driver" with Hollyn and TRU. This comes with the announcement of his next 36-city concert tour which kicks off in the fall.
The title of the album comes as a reminder to "make every moment count, and make every second count," explains TobyMac. "I started collecting concepts as soon as I turned in the last record three years ago, and started working on this album a year and a half ago. The concepts are all based on my life experiences."
Once again, Toby has collaborated with a number of diverse singers and musicians for his latest project including former DC Talk bandmates Kevin Max and Michael Tait. (This is the first time in ten years people!) He also worked with Capital Kings, Ryan Stevenson, TRU and Hollyn. One song, "Undeniable" features the voices of students from New Hope Academy located in Franklin, TN. "Collaborating allows us to appreciate our differences and makes us more receptive to each other," says Toby, " I'm honored to collaborate with my songwriters, produce with my co-producers and I am honored to take the stage with my band. There is a richness to what humans do when they come together and collaborate."
TobyMac and friends performed "Beyond Me" recently on NBC.com's Beyond A.D. digital talk show last month.