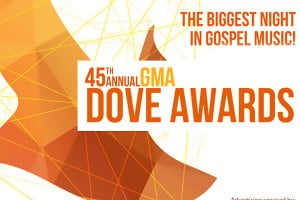 For an award show, 45 years is a pretty big deal. Last night GMA celebrated its 45th presentation of the Dove Awards. The thing is; getting timely information from GMA (or any source for that matter) is difficult at best. The awards were given out at Allen Arena in Nashville, Tennessee last night and were hosted by Bart Millard of MercyMe and Lecrae and sounds like a good time was had by all, but the event will not be televised until this Sunday, October 12, 2014 on TBN (Trinity Broadcasting Network). Photos from the awards are not yet available and information about the TV special is either not listed or is hidden on the TBN website. Be that as it may, below are the main winners this year. If you want to be surprised, stop reading now.
Hillsong UNITED were the big winners of the night with five awards for their song including Song of the Year, Artist of the Year, Pop/Contemporary Song of the Year and Worship Song of the Year. "The song 'Oceans' has opened so many new doors and so many great opportunities to share the message of Jesus," Hillsong United's Jonathan Douglass said backstage as reported on Billboard.com. "Only by the grace of God is this song doing what it's doing. . . People keep telling us the song is doing really well, but the way we gauge it is when we talk to people one on one, either back in Sydney [Australia, the worship band's home base] or all over the world. People grab me by the shoulders, look me in the eyes and say, 'I was going through this and that song is what helped me.' That's why we do these albums."
Switchfoot won three Doves, including Rock Contemporary Song for "Love Alone is Worth the Fight" and Rock/Contemporary album and Long Form Video of the Year for "Fading West." The rock group Skillet won Rock Album of the Year for RISE and Rock Song of the Year for "Not Gonna Die."
"Have to say it was pretty cool hearing the news about these wins," remarked lead singer John Cooper in press release statement. "We couldn't be there since we're heading to Europe again this week [their third visit in a year], but to have this album recognized in this way is definitely an honor, and we're really thankful."
Again, the Dove Awards took time to award Director Harold Cronk and Pure Flix Entertainment an award for Inspirational Film of the Year, God's Not Dead.
Below is a list of the bulk of this year's winners. For the complete list and players responsible, click here.
Song of the Year – "Oceans (Where Feet May Fail)" – Hillsong UNITED
Songwriter of the Year – Chris Tomlin
Artist of the Year – Hillsong UNITED, Hillsong Music
New Artist of the Year – Ellie Holcomb, Full Heart
Rap/Hip Hop Song of the Year – "100" – KB (ft. Andy Mineo)
Rock Song of the Year – Not Gonna Die" – Skillet
Rock/Contemporary Song of the Year – "Love Alone Is Worth The Fight" – Switchfoot
Pop/Contemporary Song of the Year –  "Oceans (Where Feet May Fail)" – Hillsong UNITED
Inspirational Song of the Year – "You Amaze Us" – Selah
Southern Gospel Song of the Year – "Revival" – Karen Peck & New River
Country Song of the Year – "Love With Open Arms" – Doug Anderson
Contemporary Gospel/Urban Song of the Year – "Every Praise" – Hezekiah Walker
Worship Song of the Year – "Oceans (Where Feet May Fail)" – Hillsong UNITED
Rap/Hip Hop Album of the Year – Never Land – Andy Mineo
Rock Album of the Year – Rise – Skillet
Rock/Contemporary Album of the Year  – Fading West – Switchfoot
Pop/Contemporary Album of the Year – Overcomer – Mandisa

Inspirational Album of the Year – Hymns – Michael W. Smith
Southern Gospel Album of the Year – Oh What a Savior – Ernie Haase & Signature Sound
Country Album of the Year – Drive – Doug Anderson
Contemporary/Gospel Urban Album of the Year – Greater Than – Tye Tribbett
Traditional Gospel Album of the Year – Duets – Donnie McClurkin
Christmas Album of the Year – Christmas Is Here – Brandon Heath,
Praise and Worship Album of the Year – Majestic – Kari Jobe
Short Form Video of the Year – "Shake" – Mercy Me
Long Form Video of the Year – "Fading West" – Switchfoot
Inspirational Film of the Year – "God's Not Dead" – Pure Flix