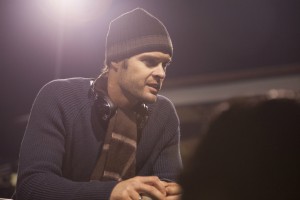 One of the most pumped up movies about the rapture and end times is coming to theaters this weekend and chances are you've never even heard of it. The film is called The Remaining and it is not your father's A Thief in the Night movie.
Affirm films has been experimenting with their faith-based films division, trying hard not to do a "bait and switch" on the audiences attending these films. People who went to see Mom's Night Out saw a true comedy. People who saw When the Game Stands Tall saw a true football film. Now, those who see The Remaining will see a true horror film. Not an axe-murderer movie with a message, but something just as scary.
"It has everything people love about horror films but with some meat," says Chris Dowling, the co-writer for the film. "Most horror films, you walk out of the theater and completely forget about. You and your buddies are already talking about if you want to grab coffee or how late Buffalo Wild Wings is open by the time you hit the parking lot. The Remaining is not that movie. It stays with you. It's a conversation starter. You don't just walk away from it."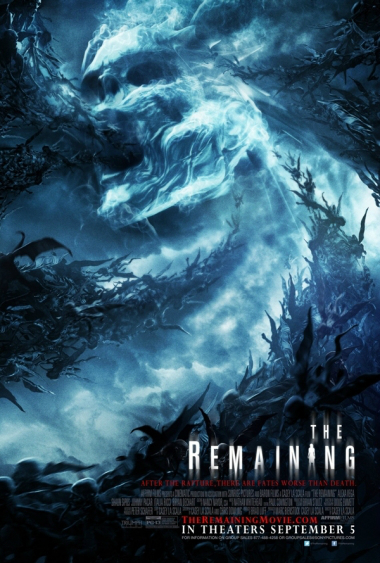 I got a chance to talk Chris earlier this week about the project and was pleasantly surprised by what I learned. While similar in concept to other "rapture movies" like the upcoming re-make of Left Behind, this one attempts to stand out among the crowd with some impressive names attached to it. The movie is written and directed by Casey La Scala (executive director of Donnie Darko and A Walk to Remember), Doug Emmett (cinematographer of Paranormal Activity 4) and Brian Stultz (production designer for Iron Man 3).
The Remaining begins with a group of friends attending a wedding when a series of catastrophic events rains on their parade. People suddenly drop to their death with no explanation. In a matter of minutes, the group goes from celebrating to scrambling for safety. Has Mother Nature gone mad or is there a more sinister enemy behind the death and destruction?
The supernatural thriller centers on the extreme and horrific circumstances surrounding the biblical accounts of the end times, but not in a way that most of us are familiar with. So, how is The Remaining different from other end time films?
"I've heard of a Thief in the Night, but have never seen it and I made a specific choice not to see any of the Left Behind series when working on this film," says Chris. "I didn't want to be influenced either knowingly or subconsciously by the ideas they had in their films. So, with that said, I can't speak on specifics on how different they are, but I can make some guesses."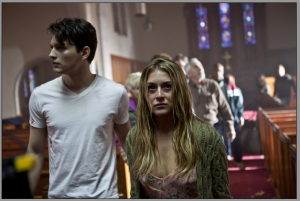 "First off, (spoiler alert), when the rapture goes down, we don't have people disappearing with a bunch of empty clothes laying around. Here, bodies drop. Everywhere. It's the souls that get taken up. We wanted to do something different and it definitely makes for a much more terrifying and confusing event where there are thousands of "dead" bodies littering the city. It's not gory or slasher stuff, but there are demons chasing people and some seriously bad stuff is going down. This is Revelations after all!"
The trailer does look pretty scary so it will be interesting to see how audiences will react to it. Chris says that he watched the reactions of filmgoers at a screening recently and he couldn't be prouder of the end product. "I think it's really fun to operate on the fringe of something where there is little precedent. I'm really proud to be on a team that is pushing the edge of faith films and testing the waters."
This led to my next question, "So, are you hoping to scare the "hell" out of people with this picture?"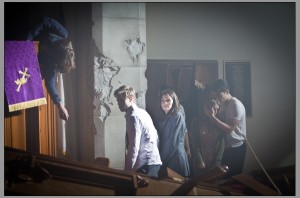 "From both a literal sense and figurative sense I suppose so," says Chris. "But only by the nature of what the film is: a horror. As far as working akin to a "Hell House" or something where we as filmmakers are trying to scare you into accepting a faith with Jesus Christ…that's not really the angle I was going for. I really wanted this to be about checking yourself and questioning where you are at with your faith. I think it's really tough to scare someone into a relationship with God. That doesn't mean it can't happen, but usually if your "come to Jesus moment" is built on being scared into it…I don't know…I feel like those are the people that do an altar call or say a sinner's prayer or something…and then four weeks later, they are already over it and you never see them at church again. I think faith needs to be rooted in something more than fear. I hope this leads people to examine their own faith in a more comprehensive way."
Before my interview, I did some research on Chris and took note that he has also been an actor in the past. "Ha! Acting was a brief moment in time. It was cool. I did a couple little things and had a character with a small (blink and you miss it) run on the soap Days of Our Lives, but ultimately I knew I really wanted to write. It's been a long, strange trip, but things are really coming together. I've worked some odds and ends jobs like everyone else in L.A., but at the end of the day, I get to work from home doing what I love and have time to hang out with my wife and little girls. There is nothing better than that!"
And Chris has been busy. In tandem with The Remaining, Chris has written and directed his next movie, Produce. "It has secular appeal with a faith vibe," says Chris. "It's about an ex-major league baseball player whose life is turned upside down when he becomes friends with a teenager with Down Syndrome that has a child-like faith in God. I'm also producing a documentary about a comedy troupe that is made up entirely of actors with autism called, Asperger's Are Us."
Opening in theaters on September 5, 2014, The Remaining is rated PG-13 for intense sequences of terror, violence and destruction throughout, and thematic elements.