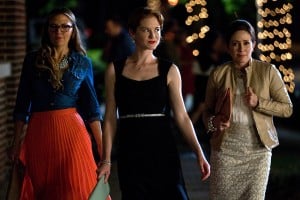 The new faith-based comedy, Moms' Night Out, is taking a real beating among critics which is a real shame as this is not only a very well done "Christian" film, but it is also very funny with a storyline that many women can relate to. However, you wouldn't know by some of the recent reviews of reviewers who were either annoyed or offended by the film's tame tone. One critic calls it sexist and another says that the moral of the story is to never leave the house or all hell will break loose. Neither is the case of this film – although a lot of "hell" does break loose.
The main character is a stay-at-home mom (gasp!), who has a hard time controlling her children, constantly compares herself to other women and feels bad because she's not the perfect mom. Yeah. No woman could relate to that. In fact, as of today, Rotten Tomatoes has it at a 17% "rotten" rating among critics but theater-goers gave it a 84% "fresh" rating. It is true that many faith-based films are bad – but this one isn't one of them.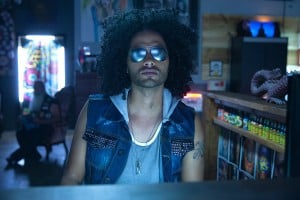 Moms' Night Out stars ABC's Grace Anatomy's Sarah Drew as the harried housewife, Allyson. The only thing that she wants for herself is to write her own blog, but with everything else in her life, that too is a disappointment. Her husband Sean (Sean Astin) is a traveling businessman who understands that his wife is unhappy, but isn't sure how to help. On a whim, Allyson decides to plan a "moms' night out" with her best friend Izzy (Andrea Logan White) and their pastor's wife Sondra (Patricia Heaton) who looks like she could use a night away as well. The kids will be taken care of by Sean, Izzy's husband Marco (Robert Amaya) who has a fear of taking care of kids on his own as well as a number of other phobias, and their gamer friend, Kevin (Kevin Downes) who hates kids. What could go wrong? Everything.
The plot is very complex with too many twists and turns to explain here, but is very clever, enjoyable and (gasp again) clean. Don't let the trailers fool you. This isn't one of those silly movies where the kids misbehave and the dads are at a loss on what to do. Well, that happens too, but the kids are just kids. The film focuses on the adults who are just trying to do the best they can given the circumstances that put themselves into.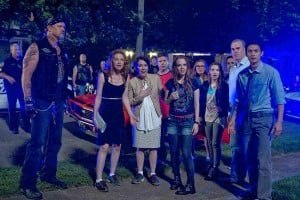 The casting is great. There is no surprise that Drew, Astin or Heaton do a great job with their roles, but audiences will be surprised by the talents of some of the other cast members. Andrea Logan White is a great actress, but many have not seen her work as the bulk of it has been done on straight-to-video Christian films. Trace Adkins is hilarious as Bones, the tattoo parlor artist. Amaya's (who was in Courageous) role is small, but very enjoyable as well. The biggest surprise is that of Manwell Reyes in his first film role. Reyes is the lead singer of Group 1 Crew and is a huge surprise as the "Tattoo Desk Guy." And then there's David Hunt (Heaton's husband in real life) as a British taxi driver.
Moms' Night Out is a compilation of Christian filmmakers coming together to create one great film. It is a partnership of Sony, Affirm Pictures Entertainment (Heaven is for Real, Soul Surfer), Provident Films (Courageous, Home Run) and Pure Flix Entertainment (God's Not Dead). It is written by Jon Erwin, who also wrote October Baby and Andrea Gyertson Nasfell (What if). It is directed by Andrew Erwin as well as Jon Erwin. The film is also especially important to Heaton and Hunt as they are not only acting in the movie but they serve as executive producers as well.
Moms' Night Out is not preachy in the least and most moms will be able to sigh in unison that they are not alone in this struggle called motherhood. While there really isn't anything inappropriate for children in the film, it really isn't meant for them, so do yourself a favor and get a sitter. What's the worst that can happen?