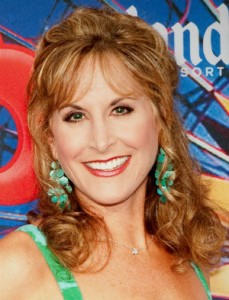 Believe it or not, but this year marks the 25th anniversary of the Disney animated hit, The Little Mermaid. On October 1st, Disney will release a special "Diamond Edition" DVD and Blu-Ray sets. Because of this special occasion, I was given the chance to interview the voice of that mermaid, Jodi Benson, who will always be connected to Ariel.
Benson grew up in a small town but always had dreams of making it on Broadway, much like Ariel wanting to leave water for land. "[I grew up] having a dream and a desire to pursue Broadway and singing, dancing and acting, [but] not really having any of those outlets around me. I'm not exactly sure where those desires came from, but it was definitely something I was reaching way up outside of the box for. I could definitely relate to Ariel in that way."
By the time Benson went to college, she "grew out" of those ideas and began pursuing a degree in pre-law, but in the end, her heart won out and she moved to New York. She began to do ensemble roles with some success, but her fate changed the day she met Howard Ashman. He was working on Broadway musical called, Smile and cast Jodi for the lead. Unfortunately, that show didn't do so well (only 48 performances before it closed), but his next project went a little better. He was teamed up with Alan Menken to write the music for The Little Mermaid and Ashman extended auditions to the Smile cast. Benson won the role of Ariel and the rest is history.
Personally, I see all kinds of spiritual meanings within the The Little Mermaid story and I asked Benson if she could see any similarities:
"Yeah, I do. When I watch a film I can definitely get some kind of spiritual interpretation from it.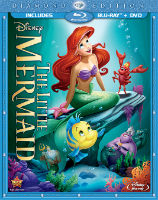 [With The Little Mermaid] I think that we have this message that's going on with Ariel reaching for something greater than herself… getting outside of the box… reaching for something that seems unattainable and I think that for a Christ follower, that is something. I want to live outside of the box and I definitely don't want to put God in a box, so I want to be able to dream big and kind of let that go of my small mindedness. I think that with Ariel, we see her character having some of those same kinds of qualities."
Jodi isn't an actress that just happens to be a Christian. She "walks the talk." When asked if that was difficult for her being in show business, she said: "Well, for me, I was able to make that statement of faith early on when my career began, so there weren't really a lot of surprises. People around me knew where my husband Ray and I stood as far as my faith went. When you establish that early on in your career it makes it so much easier than trying to re-invent it or having to restate your faith each new opportunity that comes ahead. It was kind of nice to just make it really clear and easy at the beginning saying, 'Hey, this is what I'm comfortable with, this is what I'm not comfortable with.'"
Does working with a big corporate client make a difference? "I have to say that after all these years working with Disney, that they have been incredibly supportive of for me and for where I stand on my faith. I've never been hushed. I've never been mocked. I've never been told to be quiet. They trust me and I think they know that I am going to stand on integrity and that I'm going to be who I am and be comfortable in my own skin, but not be offensive. It's been a really good relationship."
Despite the good working relationship, don't expect to run into Benson during your next trip to L.A. Benson and her family from away from Los Angles to North Georgia in 2005. "We wanted to raise [the kids] in an atmosphere that was more like ones where we grew up. I am from Illinois and my husband is from Alabama. I think we were looking for a little more of a rural small town kind of a feel rather than Los Angeles or New York. My bosses were completely on board with the move. I have studio at my house and there is a sister studio for Disney which is about 45 minutes away and we haven't dropped a beat. In the art of animation and voiceover work, you can pretty much work from anywhere."
For many of us, we can't separate Jodi from Ariel, so I asked her what she would like people to know about Jodi apart from Ariel. "I am really committed to my faith journey and I am committed to my family. My husband and I have been married for almost 30 years and we homeschool our kids. We have a different working-out-of the-box family, but we do make it work, obviously with God's grace and we are very grateful for that." Are there any drawbacks from not living in New York or L. A.? "Sometimes it can be a little bit lonely because we are the only family that we know that is in the entertainment industry, homeschools and is faith-based [while trying] to maintain some sort of 'regular life' so to speak in the midst of the crazy stuff. It is a little bit different I think. Sometimes we feel like we are the Lone Rangers, but this is where God has us and this is his calling for right now, for this season. We do it with joy and with integrity."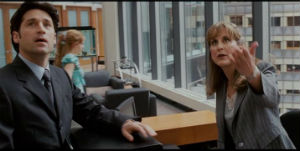 For most of us, our first glance of Jodi Benson outside of the animated world was with her work in 2007's Enchanted with Amy Adams and Patrick Dempsey. I asked if she enjoyed it. "That was crazy fun. It was just a joke. It was Kevin Lema who was the director of the film who is an animator and he had worked on The Little Mermaid. Because it was a fairy tale and because it has the princess and everything, he just thought how cool would it be to play hide and seek, (you know like finding the hidden Mickeys at Walt Disney World), how many princesses can we put in there?"
In addition to Benson, Judy Kuhn (the voice of Pocahontas) and Paige O'Hara (the voice of Belle) made cameos in the film, but Jodi's part was a little larger. "My role was just supposed to be one line or something, but when I went in, I don't know we had such a good time and Patrick Dempsey and I kind of hit it off. I didn't know who he was – I don't watch television, but we started talking about our kids and stuff it just was a very positive working relationship and before you know it, they were adding a couple of extra scenes to the role and stretched it out a little bit more."
Asked if a sequel, would she reprise her role? "If they would call I would love it. It was really, really fun."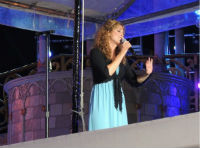 So, what's next for Jodi Benson? Well, in addition to her ongoing symphony concerts and her voice work, Benson is also teaming up with World Vision. Her first appearance as spokesperson for the charity was at the "Night of Joy" weekend at Walt Disney World earlier this month where she sang and appeared in an appeal video.
Thanks Jodi for letting us be a part of YOUR world.