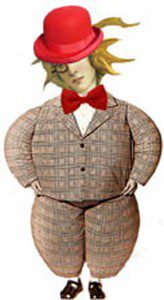 Dear Our Lady of Weight Loss, My sins are two-fold — in thought and in deed.
For close to a half a century (give or take a couple of decades, if you will), I have mercilessly beaten myself up each and every time I took even one bite of the Devil's Cake, much less polished off an entire box of Yankee Doodles, Miss Debbie's pies or rummaged through my refrigerator endlessly looking for something to comfort, sooth, fill.
I am stuffed to the gills with guilt, drowning in sadness and busting at the seams (oops, there goes another zipper).
I am heavy in heart and stature. My fat roll has grown its own fat roll. – Busted Zipper
Dear Busted Zipper,

One of Our Lady of Weight Loss's Ten Commandments reads, "Thou shalt not beat thyself up." You may wonder, "Why not?" Because it does no good. The best thing you can do is get up, dust yourself off and toss whatever devil food is leftover in the garbage can, fast!
All Is Forgiven, Move On!
Janice

For more weight confessions and forgiveness, join Our Lady of Weight Loss's KICK in the TUSH Club/FB!