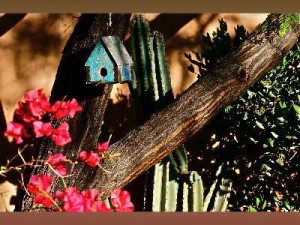 Have you ever heard of ART? Not as in art that artists create, or Art as in Art Garfunkel, but rather ART a.k.a. Attention Restoration Theory? ART asserts that people can mull over, chew over, focus and contemplate more keenly and attentively after spending time in nature, or even looking at scenes of nature.
It's mystical, it's magical and yet, we all know at our stardust cores that nature restores mental health similarly to the way that food and water nurture and bring our bodies back to health.
When we encounter an onrush of scenery, when we breathe in air, stretch our eyes to the mountaintop and listen to the birds sing their songs, we feel happier.
On this glorious spring day, I invite you to click through "The Birdhouse, the Cactus and All" (a photo taken by Janny Taylor—that's me—from my Courtyard series) and contemplate your next nature-move.
Will you go outside, seek a quiet place where you can be alone with the heavens? Will you smell the dirt? Will you breathe in and out in accordance with the pace of nature and learn her secrets?
1. Click the Puzzle
2. Contemplate Your Next Move
3. Go Outside.
4. Seek a Quiet Place.
5. Commune with the Heavens.
6. Smell the Dirt.
7. Breathe in and out with Nature.
8. Tune Into the Birds' Songs
9. Be Happy … sometimes it's just that simple!
Puzzled? Click through this week's Get Jiggy Weight Loss JigSaw Puzzle, The Birdhouse, The Cactus and All.
Send "The Birdhouse, The Cactus and All" e-Card to a friend!
For more happiness, join Our Lady of Weight Loss's KICK in the TUSH Club/FB!
Happily yours,
Janice
Sign up for the KICK in the TUSH CLUB monthly e-newsletter, sign up here.
To join the FACEBOOK/KITT Club, click here!
For one-on-one coaching, contact Janice!