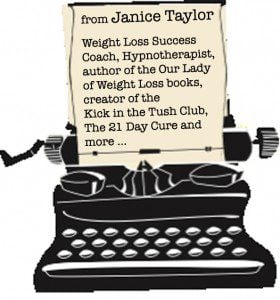 Often, when people begin to look at their thoughts, behaviors and belief systems, as well as their "stay fat" strategies, they wonder, "Why do I do that?"
"Why" indeed? While I do believe it is useful to know why we do what we do, asking the "why" question is sometimes a trap. ("Why?" you ask! Ha!)
Asking "why" is a trap, because we have a tendency to get stuck in the why. If, when working with my clients, we spent the entire session looking at "why" said client was so skilled at self-sabotage, we might never come up with an action plan.
Instead of asking "Why?" Try "What?" and then "How?" on for size!
"What can I do to change?"
"How can I implement change?"
For more thinnish thinking, join with Our Lady of Weight Loss and Tushkateers across the land: KickintheTushClub/FB!
What Now?
Spread the word–NOT the icing!
Janice
Sign up for the KICK in the TUSH CLUB monthly e-newsletter, sign up here.
To join the FACEBOOK/KITT Club, click here!
For one-on-one coaching, contact Janice!