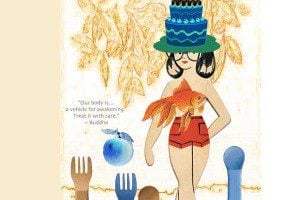 Today's JigSaw Puzzle is inspired by the Buddha's words – Our body is … a vehicle for awakening. Take good care of it.
Chew on the Buddha's words as you not only click through this week's Get Jiggy Weight Loss JigSaw Puzzle, but AWAKEN, as well!
If not now, when???
Chew, think, add your comments below and/or join Our Lady of Weight Loss's KICK in the TUSH Club/FB!
Spread the word–NOT the icing!
Janice
Sign up for the KICK in the TUSH CLUB monthly e-newsletter, sign up here.
To join the FACEBOOK/KITT Club, click here!
For one-on-one coaching, contact Janice!