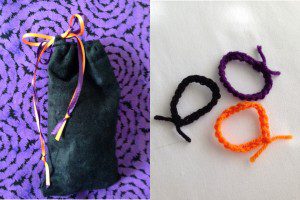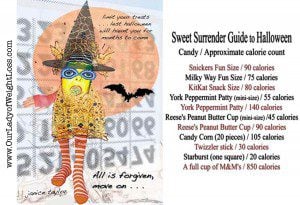 Two for the price of one! Your Sweet Surrender Guide to Halloween and some ideas for No Sugar Halloween Treats!
Tushkateer Judy R. sent me a few photos of the Trick or Treat bag that she created along with the fun, colorful and magnificent Halloween bracelets that she crocheted to put in the bags! All you need to make these no sugar bracelets is a little yarn, a crochet hook and a single stitch! Which, by the way, is really easy, 'cause even I can manage it!
Consider giving out no-sugar treats! Stickers, coins, fun erasers (I saw some eyeball ones at Target) are always a good idea. Keep thinking and share your ideas with other Tushkateers on our FB page!
Join Our Lady of Weight Loss's Kick in the Tush Club/FB!
And–for the full skinny sign up for Janice Taylor's (monthly) Kick in the Tush Club newsletter!
Spread the Word-–NOT the icing!
Janice Taylor, Life and Wellness Coach,
Weight Loss Expert, Author, Artist, Positarian
——————————————————————————-
For the best life, wellness and weight loss wisdom,
visit Janice: Our Lady of Weight Loss
Sign up for the Kick in the Tush Club newsletter!