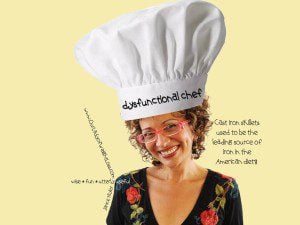 It's time to join your favorite Dysfunctional Chef as she cracks open the summer salad recipe book, isn't it? A simple, refreshing, healthy meal in less than 15 minutes sounds ideal to me. Ready, set, don't cook!
Crisp, Cool and Quick: Watermelon and Cucumber Salad.
Ingredients:
6 cups watermelon, cut into cubes
1 cup watercress, chopped
1/2 cup Vidalia onion, sliced thin
1 medium English cucumber, sliced thin*
2 tablespoons fresh mint, chopped
2 tablespoons fresh cilantro, chopped
2 tablespoons fresh lime juice
2 teaspoons extra-virgin olive oil
1/4 teaspoon kosher salt
4 ounces feta cheese, crumbled
*English Cucumber is a variety of cucumber that is generally sweeter than your regular cuke. It is longer, thinner, and its seeds are tiny.
Instructions:
Combine first 6 ingredients in a large bowl.
Whisk together lime juice, olive oil and salt. Dress the salad.
Sprinkle with feta cheese.
Serve!
For (almost) daily motivational musings
from our country's premiere Anti-Gravity Coach, Janice Taylor (that's me), join Our Lady of Weight Loss's Kick in the Tush Club/FB!
For the full skinny as well as Anti-Gravity Specials, sign up for Janice Taylor's (monthly) Kick in the Tush Club newsletter!
Spread the word…NOT the icing!
Janice Taylor, Anti-Gravity Coach™, Positarian, Author, Artist
buoyant * magnetic * luminous
——————————————————————————-
For the best life, wellness and weight loss wisdom,
visit Janice: Our Lady of Weight Loss
Sign up for the Kick in the Tush Club e-newsletters