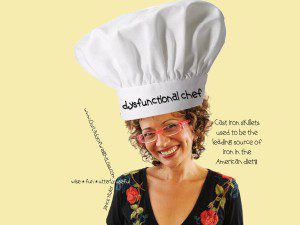 This Dysfunctional Chef was searching through her Eat This: Lose Weight files, hoping to find an Our Lady of Weight Loss approved recipe that would ignite her taste buds! Happily, she found the perfect dish to serve with a salad!
Eat This: Lose Weight – SalmonBurger
Ingredients:
1 (16 ounce) can salmon, drained and flaked
2 eggs
2 cloves garlic, minced
1/3 cup red bell pepper, diced
1/3 cup yellow bell pepper, diced
1/4 cup panko
1 tablespoon prepared horseradish
1/2 teaspoon salt
1/2 teaspoon freshly ground black pepper
2 tablespoons olive oil
Instructions:
In a medium bowl, mix together the salmon, eggs, and the rest of the ingredients with the exception of the olive oil. Divide into 6 portions. Using your very clean hands, press, form, roll into 6 firmly packed patties.
In a large skillet, heat the oil over medium heat. When the oil is hot, add the patties. Cook for approximately 4 minutes per side, or until nicely browned.
Serve on bread of your choice, with a bit of mustard, ketchup (go crazy on the condiments), lettuce and tomato. Like (duh) a burger!
For more fat-burning, healthy living recipes join Our Lady of Weight Loss's KICK in the TUSH Club/FB!
Spread the word–NOT the icing,
Janice Taylor, Life & Happiness Coach, Author, Artist, Positarian
wise * fun * utterly useful
———————————————————————————-
For the best life, wellness and weight loss wisdom, visit Janice:
Our Lady of Weight Loss
sign up for the Kick in the Tush Club e-newsletter