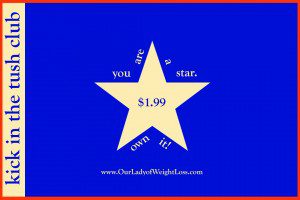 Our confidence, or lack of, affects how we experience life, and what actions we take based on that experience. When we are confident in who we are; when we feel good about ourselves, we make better choices, healthier choices. We create a better life, a happier life.
Confidence is extremely important aspect in our lives.
Here, Our Lady of Weight Loss share with you 10 Quotes to Build #Confidence!
No one can make you feel inferior without your consent. ~ Eleanor Roosevelt
Never dull your shine for somebody else. ~ Tyra Banks
We either make ourselves miserable, or we make ourselves strong. The amount of work is the same. ~ Carlos Castaneda
When I was a child my mother said to me, 'If you become a soldier, you'll be a general. If you become a monk, you'll be the pope.' Instead I became a painter and wound up as Picasso. ~ Pablo Picasso
Go confidently in the direction of your dreams. Live the life you've imagined. ~ Henry David Thoreau
Believe in yourself! Have faith in your abilities! Without a humble but reasonable confidence in your own powers you cannot be successful or happy. ~ Norman Vincent Peale
You have to grow from the inside out. None can teach you, none can make you spiritual. There is no other teacher but your own soul. ~ Swami Vivekananda
Those who mind don't matter, and those who matter don't mind. ~ Bernad M. Baruch
Remember that wherever your heart is, there you will find your treasure. ~ Paulo Coelho
Man often becomes what he believes himself to be. If I keep on saying to myself that I cannot do a certain thing, it is possible that I may end by really becoming incapable of doing it. On the contrary, if I have the belief that I can do it, I shall surely acquire the capacity to do it even if I may not have it at the beginning. ~ Mahatma Gandhi
For more Confidence Boosting, Happy Talk, visit: Facebook/Kick in the Tush Club!
Spread the word–NOT the icing!
Janice
Dictated but not read by OLWL. Excuse all typos!
———————————————————————————-
For the best life, wellness and weight loss wisdom, visit Janice:
Our Lady of Weight Loss
sign up for the Kick in the Tush Club e-letter
join and chat: Kick in the Tush Club/Facebook