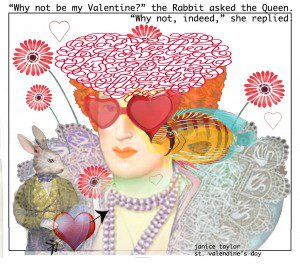 This week's Weight Loss JigSaw Puzzle, entitled "Why not be my Valentine?" honors Saint Valentine's Day, also known as, Valentine's Day or the Feast of Saint Valentine.
We associate the day with romantic love; an occasion when lovers express their love for each other by presenting heart-shaped boxes of candy, flowers, and by exchanging "Valentines" (St. Valentine's Day greeting cards.)
Our Lady of Weight Loss is mightily in favor of love. She thinks it has powerful "melting" properties. In other words, Love Lightens!
As you click through "Why Not be My Valentine?," feel free to ponder the melting, healing and lightening powers of love!
Send the e-postcard "Why Not?" to a friend or lover!
Hungry for more love? Join the loving conversation at Kick in the Tush Club/Facebook!
Spread the word–NOT the icing!
Janice
Check out my workshop @ Rowe Camp and THEN … register

———————————————————————————-
For the best life, wellness and weight loss wisdom, visit Janice:
Our Lady of Weight Loss
sign up for the
Kick in the Tush Club
e-letter
join and chat:
Kick in the Tush Club/Facebook
!