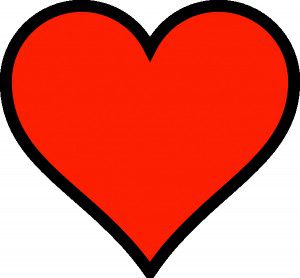 Love is the greatest refreshment in life. ~ Pablo Picasso
Greetings Tushkateers! OMG! OMG! OMG! St. Valentine's Day is a mere two sleeps away (two days in grown-up talk); the official day of love. Romantic love, primarily.
But for me (and hopefully for you, too), Valentine's Day connects me to a day that dates back to elementary school, to remembrances of glitter and glue, heart shapes stickers, "be mine" messages that were enthusiastically created and deposited into each and every child's "mailbox." (Pretty much a paper bag with rolled down top; child's name carefully printed on a heart-shaped label and adhered straight up.)
It was an art-filled, joyous day. A relief from the rigors of addition, subtraction and phonetics; the entire morning was spent making Valentines, the afternoon exchanging the cards, and eating!!! Eating heart-shaped cookies as well as pink, red and white cupcakes. Washed down by milk (from those little containers).
Whether or not you were in a relationship, which was highly unlikely at the age of 5, 6 or even 7, you knew for sure that you'd get a card–many cards, in fact–which meant that you got to feel appreciated–or at the very least–you didn't suffer any blows to your self-esteem.
With that in mind, please find attached please find a bevy of hearts from which to choose.
http://maildogmanager.com/pics/OurLadyofWeightLoss/library/files/Valentine_Hearts.pdf
Print 'em, write on 'em, send 'em to your friends, family, and, for sure, all the kids you know. Hand them out as you walk the street! Anonymously put in your neighbor's mailboxes. Be a kid again!!! It's the absolute best way to "lighten."
Scroll down for Valentines quotes for your cards, or try on these non-romantic, just plain celebratory words for size:
1. What's Up Valentine?
2. Woo Hoo, Valentine!
3. You're Sweet and Pretty Neat!
4. Oh, Valentine, What a Treat!
5. You're the Icing On the Cupcake
6. Happy Valentine's Day
As far as the heart-shaped cookies and cupcakes go, try making cupcakes from an angel food cake-mix. Spread the icing ever so slightly and lightly (just this once), and then script LOVE in the center! 90 to 120 love-filled, guilt-free calories a piece. Savor the flavor! Limit: One!!!
Feel free to post your Valentine and/or post your favorite Valentine quote on Kick in the Tush Club/ Facebook page!!!
Spread the word–NOT the icing!
Janice
Check out my workshop @ Rowe Camp and THEN … register
———————————————————————————-
For the best life, wellness and weight loss wisdom, visit Janice:
Our Lady of Weight Loss
sign up for the Kick in the Tush Club e-letter
join and chat: Kick in the Tush Club/Facebook!