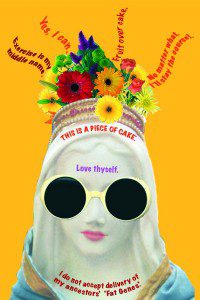 I'm not quite sure why it is so difficult to 'love thyself,' the number one commandment of Our Lady of Weight Loss' 10 Commandments of Permanent Fat Removal (a.k.a. weight loss) but apparently – it is!
If you were to ask me, "Janice … What's the best part of losing weight?" (Go ahead, ask …) I would tell you with certainty that the big prize of permanent weight removal is that at the end of the day there is no beating up of self. I love myself. (In a grounded, non-narcissistic way.)
Today, let's live by the #oneword: Self-Love.
As a flower needs watering, so does "self-love." – Janice Taylor
How can you begin to water your 'self-love' today? Make self-love your practice. Look into the mirror first thing each and morning and say something loving to you!
Self-love is crucial to your well-being, your family's well-being, your friend's well-being, and the planet's well-being. Start the day with a kind word and watch it ripple out.
Here are some quotes to help water your seeds of "self-love."
You, yourself, as much as anybody in the entire universe, deserve your love and affection. – Buddha
If you aren't good at loving yourself, you will have a difficult time loving anyone, since you'll resent the time and energy you give another person that you aren't even giving to yourself. – Barbara De Angelis
I'd rather be able to face myself in the bathroom mirror than be rich and famous. – Ani DiFranco
If you love yourself, you love everybody else as you do yourself. As long as you love another person less than yourself, you will not succeed in loving yourself, but if you love all alike, including yourself, you will love them as one person and that person is both God and man. Thus he is the great righteous person who, loving himself, loves all others equally. – Meister Eckhart
A low self-love in the parent desires that his child should repeat his character and fortune. – Ralph Waldo Emerson
Do not wish to be anything except what you are. – St. Francis De Sales
There is a voice inside which speaks and says: This is the real me! – William James
Love yourself first and everything else falls into line. You really have to love yourself to get anything done in this world. – Lucille Ball
For more love, self and otherwise, visit: Kick in the Tush Club/Facebook
Spread the word–NOT the icing!
Janice
Check out my workshop @ Rowe Camp and THEN … register
———————————————————————————-
For the best life, wellness and weight loss wisdom, visit Janice:
Our Lady of Weight Loss
sign up for the Kick in the Tush Club e-letter
join and chat: Kick in the Tush Club/Facebook!