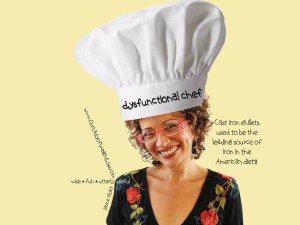 Ceviche ("seh-BEE-chay") is an extremely popular dish in South America, whose basic ingredient is raw fish. Raw fish, cut into bite-sized piece, marinated in the juice of an acidic fruit (usually lime), salt and various seasonings. The juice changes the texture of the fish and "cooks" the fish, either partially or completely, depending on how long the fish is marinated.
The citric acid from the juice does make the fish more firm and opaque, as cooking with heat does, but the acid does not kill the bacteria or the parasites as effectively as heat does. That said, while I find the idea of making my own ceviche at home appealing, I also recognize the fact that I am the Dysfunctional Chef and I best take the safe already cooked route!
Here is a fabulous "faux" Ceviche recipe ever!
INGREDIENTS:
1 lb. cooked medium shrimp, cut in half lengthwise
1 medium tomato, chopped
1 avocado, chopped
1 serrano chile, halved, seeded and sliced
1/2 English cucumber, peeled and chopped
1/3 cup red onion, chopped
1/3 cup cilantro, chopped
1/2 teaspoon dried oregano
juice of 1 lime
1/2 cup crumbled feta cheese
4 cups of mixed greens
INSTRUCTIONS
Mix together everything, with the exception of the mixed greens, in medium bowl. Let stand for 15 minutes. Plate 1 cup of greens per serving, then place shrimp "cerviche" on top.
NOTES
Serrano chiles are hot! Be uber-careful when cutting. Put gloves on. Don't let those seeds get on your fingers; don't let your fingers spread the "hot" to your face. I did once! I was burning for hours, trying every remedy on the Internet, including cold vodka wipes!
English cucumbers are longer and more narrow than "regular" cucumbers. Most time they are wrapped in plastic and are unwaxed. Seeds are much smaller than "regular" cukes, but they are not seedless. They are a tad sweeter, as well.
Want to dish the dirt, chew the fat? Laugh it up while you slim down? Then join Kick in the Tush Club/Facebook!
Spread the word–NOT the icing!
Janice
———————————————————————————-
For the best life, wellness and weight loss wisdom, visit Janice:
Our Lady of Weight Loss
sign up for the Kick in the Tush Club e-letter
join and chat: Kick in the Tush Club/Facebook!
Check out my workshop @ Rowe Camp and THEN … register