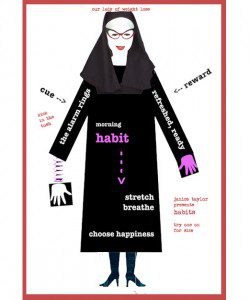 Are you wondering how to be happy? Are you thinking that it would be marvelous, stupendous, nothing short of a miracle if you could, if you would, each and every morning, simply leap out of bed "happy."
Well, Our Lady of Weight Loss is here to tell you that it's not as complicated a matter as you might have thought. In fact, it's fairly simple. Of course, simple isn't always easy!
Chew on "simple/easy" as you read through the instructions, followed by a quick and breezy click through this week's Get Jiggy Weight Loss JigSaw Puzzle, "Wake Up Happy!"
3 Steps – Wake Up Happy
Pre-Step (the night before): Set Your Alarm for a reasonably early wake-up time. Come morning, when you hear the mellifluous sound, let it be your "cue" to:
1. Stretch
2. Breathe
3. Choose Happiness
You will feel refreshed and ready to start your day!
Yes, it's as simple as that. Stretch your arms, your legs, yawn, make noise; be the master stretcher that you were meant to be. Take in a few deep and glorious cleansing breathes. And then, simply, choose happiness.
Here is an audio clip to help you! Choose Happiness
Stretch, Breathe, Choose Happiness.
For more happiness, joy, laughter, love visit: Kick in the Tush Club/Facebook
Check out my workshop @ Rowe Camp and THEN … register
Spread the word–NOT the icing!
Janice
———————————————————————————-
For the best life, wellness and weight loss wisdom, visit Janice:
Our Lady of Weight Loss
sign up for the Kick in the Tush Club e-letter
join and chat: Kick in the Tush Club/Facebook!