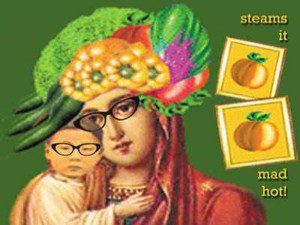 This week's Weight Loss Jigsaw Puzzle features Our Lady of Weight Loss, Steaming Mad Hot!
Now that we're into the Holiday Season full-fat blast, Our Lady of Weight Loss wants to encourage y'all to steam up platters of vegetables.
Stay full, stay healthy!
And, while you are busy steaming up your veggies, feel free to self-esteem too. Say three nice things about yourself. Go ahead, try it!
Example:
I am steamin' hot.
A master of the wok.
I am in control, believe it or not.
Click on: JigSaw Puzzle: Steamin' Hot
* Send a Steamin' Hot e-card/postcard
Are you ready for a miracle? Try this on for size!
For more joyous miracles, join with the Kick in the Tush Club on Facebook.
Spread the word…NOT the icing!
Janice
Life & Wellness Coach, Weight Loss Expert
wise * fun * utterly useful
——————————————————————————————————————————————
For the best life, wellness and weight loss wisdom, visit Janice:
Our Lady of Weight Loss
sign up for the Kick in the Tush Club e-letter
join and chat:Facebook/ a KICK in the TUSH CLUB