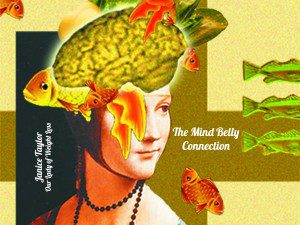 I woke up this morning with bats in my belfry and butterflies in my gut! In other words, I woke up with Belly Brain, which triggered a memory of Oz.
I remembered what the great Oz said (not from the Wizard of Oz; rather Oprah's Dr. Oz). In one of his better appearances on Oprah, Dr. Oz, presented the guts of a person.
Unbeknownst to most people, we have two physical brains. One is in your 'gut,' and the other is in your skull.
Belly Brain – Did you know that your second brain, the Belly Brain, contains neurons and neurotransmitters just like those found in your skull brain? And that just about every brain-regulating chemical, including hormones and neurotransmitters that are found in your skull brain are also present in your belly brain?
Here's something that is going to blow your mind (either skull or belly). Just like your skull brain, your gut brain is able to learn, remember and produce emotion-based feelings.
We know that it takes 20 minutes for the brain and stomach to come to an agreement that you are full when eating. (Thus, Our Lady of Weight Loss's 20 minute rule — eat and wait — 20 minutes to see if you want and/or need more).
One might easily come to the conclusion that your two brains are in direct communications with each other and have a mighty powerful influence over each other. Because of this direct brain-gut connection, the state of your gut has a profound influence on your psychological well-being.
The Science of It – While you were busy developing in the womb, both your gut (which, by the way, includes your colon, small intestine, stomach and esophagus) and your skull brain developed from the same clump of embryonic tissue. At some point, they divided. One part grew into your central nervous system (brain and cranial nerves); and the other into your enteric nervous system (gut brain).
Later on, the two brains became connected through your supper inner-highway; the vagus nerve.
The total of nerve cells in your gut is greater than the total of nerves connecting the rest your body to your brain. This complex circuitry allows your "gut brain" to act totally independent of the brain in your skull brain.
There's more to it, of course, and lots of big, fat books written on the subject. But for now, I thought that this topic might be of particular interest to you.
Bottom Belly Line: Next time you engage in positive self-talk, direct the talk to both your gut brain and skull brain.
Are you ready for a miracle? Try this on for size!
For more joyous miracles, join with the Kick in the Tush Club on Facebook.
Spread the word…NOT the icing!
Janice
Life & Wellness Coach, Weight Loss Expert
wise * fun * utterly useful
——————————————————————————————————————————————
For the best life, wellness and weight loss wisdom, visit Janice:
Our Lady of Weight Loss
sign up for the Kick in the Tush Club e-letter
join and chat:Facebook/ a KICK in the TUSH CLUB