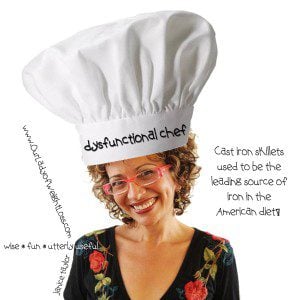 Got the Fat Belly Blues? Has your mid-section grown a section of its own? You're not alone. Researchers have found that the fat cells in the abdomen produce a hormone called neuropeptide Y (NPY), an appetite stimulant previously believed to originate form the brain. Fortunately, scientists have also found that certain foods do fight belly fat.
Today, your Dysfunctional Chef shares three foods that fight belly fat, complete with simple recipes for you to cook up and serve up, Flat Belly Style 🙂

Whole Grain Foods
Studies show that those who incorporate whole grains, cereals and other foods into their diets tend to lose more fat from their abdomens than those who eat only refined-grain foods. You know, the 'white' stuff.
Brown Rice Bites!
This recipe incorporates all three knock-out-fat ingredients! Plus hot and spicy salsa! (Research shows that hot and spicy foods support your weight loss efforts, as well!)
Ingredients:
3 cups cooked brown rice, cooled
3/4 cup shredded cheddar cheese, lite
2 eggs
4 egg whites
1 16-oz. jar HOT Salsa, thick and chunky style
1/2 cup 2% plain yogurt (Greek is best!)
salt and pepper to taste
3/4 cup crushed corn chips, organic
Instructions:
Preheat oven to 350 degrees.
In a large mixing bowl, combine rice and cheese; set aside.
In medium bowl, beat eggs until well blended.
Stir in salsa, yogurt, salt and pepper.
Add salsa mixture to rice and cheese; mix well.
Spray mini-muffin pans with cooking spray.
Spoon in rice mixture, to just below the rim.
Sprinkle crushed chips on top; gently press into mixture.
Bake for approximately 15 minutes or until golden brown. YUM!
Low-Fat Milk and Yogurt
Research shows that the more calcium in the fat cells, the more the fat cells burn fat. So, load up on calcium rich foods!
Like Hummus:
My neighbor says, "Hummus is like crack to me. I love it!" I concur! Here's a 'low-cal' totally healthy version that features yogurt. Again, I so prefer the Greek kind.
Ingredients:
1 15 oz can of chickpeas or garbanzo beans, drained (save liquid)
4 cloves garlic, crushed
juice from one freshly squeezed lemon
2 tablespoons low-fat peanut butter
3/4 cup 2% plain yogurt (Greek)
1 teaspoon cumin
a pinch of salt (to taste)
Instructions:
In blender combine all ingredients, blend until smooth and creamy. If it is too thick, add a bit of the liquid from the chick peas.
Lean Protein
Lean proteins, eggs and beans, help to keep you feeling full longer, increase your energy, which in turn helps you to burn belly fat.
Jane's Ginger-Lemon Chicken
My friend, Jane, shared this recipe with me. It's delicious, healthy, easy to whip up, and it's an easy clean-up!
Ingredients:
12 oz. chicken breasts, skinless and boneless
1/3 c. coarsely cut fresh cilantro
1/2-inch piece fresh ginger
grated peel of 1/2 lemon
2 cloves minced garlic
juice from 1/2 lemon
2 tsp. apple cider vinegar
1 tsp. olive oil
Instructions:
Combine ingredients in a food processor and then baste on the chicken as it broils.
About six minutes per side.
For more discussion on this topic or the topic of your choice, be sure to visit a Kick in the Tush Club on Facebook!
Spread the word … not the icing!
Janice
Life & Wellness Coach, Author, Weight Loss Artist
wise * fun * utterly useful
——————————————————————————————————————————————
For the best life, wellness and weight loss wisdom, visit Janice:
Our Lady of Weight Loss
sign up for the Kick in the Tush Club e-letter
join and chat: Facebook/ a KICK in the TUSH CLUB
Become a Tushkateer! A Tushkateer is a person who receives Our Lady of Weight Loss's newsletter, called the KICK in the TUSH CLUB!!! Sign up and receive her weekly e-newsletter with all the news that 'fit' to print, and you are automatically a Tushkateer! How cool is that?