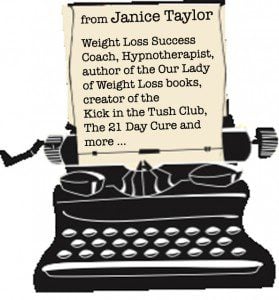 Greetings y'all!!! I am excited to share these 4 Simple NON-FOOD TIPS to a Smaller and Taller you, because …
… Sometimes it is about food; sometimes it's not. Not directly anyway!
Read on, follow these very simple non-food rules, and your excess weight could easily and effortlessly melt away. Imagine that!!!
4 Simple Steps to a Smaller, Taller You
1. SMALL PLATES. When using large plates, your portion will actually appear smaller than it is. You can either use smaller plates and experience your portion size more accurately, or you can bulk up your plate with 2/3 fruits and vegetables. Go Small!
2. TALL GLASSES. Our brains tend to zero in on the height of objects rather than their width, so short glasses don't appear as full as they are. Research shows that we pour approximately 20 percent more liquid into short, wide glasses than tall glasses. Go Tall!
3. SMALLER SPOONS. When we use big spoons to 'dish it,' we tend to put nearly 15 percent more food on our plate than when we scoop with smaller spoons. Go Smaller!
4. CONTRASTING COLOR. If your food matches the color of the plate, then you are likely to eat more. When the color of your plate contrasts with your food, you are likely to eat less. For example: Pasta with red sauce on a red plate, may yield about a 25% larger sized portion than those who plated their red pasta on a white plate. Go Contrasting Colors!
Remember … Our Lady of Weight Loss is with you every ounce of the weigh.
Spread the word … not the icing!
Janice
Life & Wellness Coach, Author, Weight Loss Artist
wise * fun * utterly useful
——————————————————————————————————————————————
For the best life, wellness and weight loss wisdom, visit Janice:
Our Lady of Weight Loss
sign up for the Kick in the Tush Club e-letter
join and chat: Facebook/ a KICK in the TUSH CLUB
Become a Tushkateer! A Tushkateer is a person who receives Our Lady of Weight Loss's newsletter, called the KICK in the TUSH CLUB!!! Sign up and receive her weekly e-newsletter with all the news that 'fit' to print, and you are automatically a Tushkateer! How cool is that?