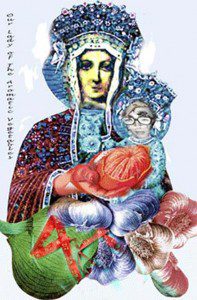 When I say "Comfort Food," you say … no, you YELL, "Our Lady of Weight Loss's Garlic Roasted Potatoes!"
Here is the best ever garlic roasted potato recipes from the OLofWL kitchen!
Ingredients15 whole garlic cloves
2 tbsp olive oil
1 teaspoon ground black pepper
6 whole potatoes, scrubbed & cut into bite size cubes
1 to 2 cups fresh, canned or boxed organic vegetable broth
1 tablespoon fresh rosemary, chopped
salt n' pepper to taste
Instructions
Preheat the oven to 400°F.
Toss the garlic cloves in olive oil and place in a small baking dish.
Season with salt and pepper, to taste.
Bake until soft, lightly brown, yum yum yum … about 40 to 50 minutes.
NOW … Place the potatoes in a medium-sized pot with the garlic cloves.
Add water to cover.
Bring water to boil, reduce the heat to a simmer, and cook on! Until the potatoes are very soft; soft enough to easily and effortlessly mash. About 20 minutes.
Remove from the heat and drain water on out, leaving potatoes and garlic in the pot.
Over low heat, add 1/2 cup of the organic vegetable stock.
Mash the potatoes with a mixer or a potato masher. Mixer makes for less lumpy; but sometimes you gotta' love your lumps. Add anywhere between 1/2 cup to 1.5 cups of broth to get it to the consistency that you like. Season to taste with chopped rosemary, salt, and pepper.
Serve and think about it … This is a pretty pure dish. There's no heavy cream or butter. Real food for real people!
A 5 Yum side dish!
Spread the word … not the icing!
Janice
Life & Wellness Coach, Author, Weight Loss Artist
wise * fun * utterly useful
——————————————————————————————————————————————
For the best life, wellness and weight loss wisdom, visit Janice:
Our Lady of Weight Loss
sign up for the Kick in the Tush Club e-letter
join and chat: Facebook/ a KICK in the TUSH CLUB
Become a Tushkateer! A Tushkateer is a person who receives Our Lady of Weight Loss's newsletter, called the KICK in the TUSH CLUB!!! Sign up and receive her weekly e-newsletter with all the news that 'fit' to print, and you are automatically a Tushkateer! How cool is that?