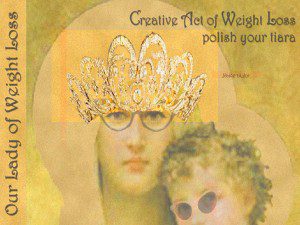 What is a Creative Act of Weight Loss?   (I thought you'd never ask!)
A Creative Act of Weight Loss is anything and everything that we do that moves us away from emotional eating, that feeds our soul, that keeps us out of the kitchen!!!  That helps us to ultimately permanently let go of those excess pounds!
It goes without say (but I'll say it anyway) that Our Lady of Weight Loss's Get Jiggy Weight Loss JigSaw Puzzles are Creative Acts of Weight Loss.
And … yes, this week's Get Jiggy Puzzle, Polishing Your Tiara, is a creative act of weight loss!
How many Creative Acts of Weight Loss can you come up with and put into action???  To help get you started, here follows 10 from All Is Forgiven, Move On (one of OLofWL's books that is sure to inspire, motivate and cause you to bust up laughing!)
1.      Take a hot bath and imagine that the fat cells are melting into the hot water.
2.      Create a pair of invisible goggles that will obstruct your vision when within 50 feet of a bakery!  Yup, they're invisible – only supply needed is your imagination!
3.      Visit your nearest dog run.  If you don't have a dog, borrow one.  It's a great place to meet people!
4.      Grow herbs.  An outdoor garden or an indoor garden.  The smell is incredible and using fresh herbs is a heavenly treat.
5.      Pull weeds.  If you've ever had any kind of garden or yard that was overcome with weeds, you'll know what I mean when I say that pulling weeds is very satisfying.  Yank out frustration, anger – it's a good way to get your energy pumping.
6.      Mambo Italiano.  Do the mambo to Rosemary Clooney's rendition.  You'll burn calories while dancing and you'll feel happy, too.  Those endorphins will be pumping, wildly!
7.      Bowl … put a team together! Design pink jackets and call yourself the OLofWL Lucky Strikes.
8.      Read the menu as if it is a poem.  Garlic bread, lightly toasted.  Chocolate meringue for dessert. My tongue licks my lips  – clean. (Then order 'lite.')
9.      Sing.  Loud! Let your frustrations out while you belt out a song.
10.   Dye your hair! Something outrageous. Something bright.  Be bold.
Spread the word … not the icing!
Janice

Life & Wellness Coach, Author
Self-Help / Weight Loss Artist
wise * fun * utterly useful
——————————————————————————————————————————————
For the best life, wellness and weight loss wisdom, visit Janice:
Our Lady of Weight Loss
sign up for the Kick in the Tush Club e-letter
join and chat: Facebook/ a KICK in the TUSH CLUB
Become a Tushkateer!
A Tushkateer is a person who receives Our Lady of Weight Loss's newsletter, called the KICK in the TUSH CLUB!!!  Sign up and receive her weekly e-newsletter with all the news that 'fit' to print, and you are automatically a Tushkateer!  How cool is that?