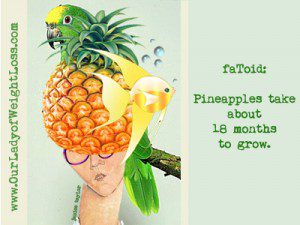 Are you ready to get your Labor Day Grill On??? I am! And so is Our Lady of Weight Loss.
She instructed me to share the following, because she is 100% positive that once you are turned onto grilled fruit, you'll never turn back!
GRILLED PEACHES
Ingredients:
Peaches (a little firm with a little give), Olive Oil or Canola Oil
Instructions:
Cut peaches in half. Pit. Brush cut side with oil (not so much; really less is more). * Cook over medium fire on both sides until grill marks show. * Peaches are tender but definitely not falling apart! * Serve plain or with salads! Or add a bit of plain yogurt and serve up a spectacular dessert!
GRILLED PINEAPPLES
Ingredients: Whole Pineapple (cut off top, bottom, remove outside bark, then slice it into 1/2 inch pieces). Leave the core, as it gives you a nice, sturdy spot to hold pieces!
Instructions: Put slice on medium-hot fire. * Cook until they are nicely caramelized. * Turn and do same. * Let them get nice n' brown. * Even if they look dry on the outside, they are oh so juicy on the inside.
FYI … I've seen tons of recipes that add sugar, rum, but to the pineapple, but honestly, you don't need to. Trust in nature!
And … for more happy, fun, energized, positive support please do join …
… A Kick in the Tush Club on Facebook!
Spread the word … not the icing!
Janice

Life & Wellness Coach, Author
Self-Help / Weight Loss Artist
wise * fun * utterly useful
——————————————————————————————————————————————
For the best life, wellness and weight loss wisdom, visit Janice:
Our Lady of Weight Loss
sign up for the Kick in the Tush Club e-letter
join and chat: Facebook/ a KICK in the TUSH CLUB
Become a Tushkateer!
A Tushkateer is a person who receives Our Lady of Weight Loss's newsletter, called the KICK in the TUSH CLUB!!! Sign up and receive her weekly e-newsletter with all the news that 'fit' to print, and you are automatically a Tushkateer! How cool is that?