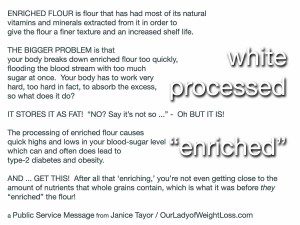 This week's GET JIGGY Weight LOSS JigSaw Puzzle, entitled "ENRICHED? That's RICH" is inspired by "enriched white flour!"
As it happened, I was reading, once again, about the ills of enriched, processed foods; which as it turns out can be pretty, pretty bad, so I thought what better way to share the information than in Get Jiggy format???
After all, processed foods are one jagged part of the healthy living puzzle. Are they not? (Yes, they are!)
Now you can click through "Enriched? That's RICH!" puzzle and not only will you burn calories (yes, clicking burns), but you can take the information in on a cellular level, if you please, about white flour and make a better, more informed, more aware decision today when you find yourself reaching for 'the Whites.'
Enjoy, JigSaw Monday!
Spread the word … NOT the icing!
Janice
Life & Weight Loss Success Coach
wise * fun * utterly useful
————————————————————————————————————————————————
FEED YOUR SOUL: Change Your WEIGHT!!! workshop – extraordinary opportunity!
September 16 – 19, 212
ONCE IN A LIFETIME OPPORTUNITY at HOLLYHOCK– SIGN UP NOW!!!!
————————————————————————————————————————————————
For the best life, wellness and weight loss wisdom, visit Janice:
Our Lady of Weight Loss
join the Kick in the Tush Club
Become a Tushkateer!
Tushkateer* A Tushkateer is a person who receives Our Lady of Weight Loss's newsletter, called the KICK in the TUSH CLUB!!! Sign up and receive her weekly e-newsletter with all the news that 'fit' to print, and you are automatically a Tushkateer! How cool is that?
Follow Janice on Twitter @OurLady
Facebook.com/OurLadyofWeightLoss